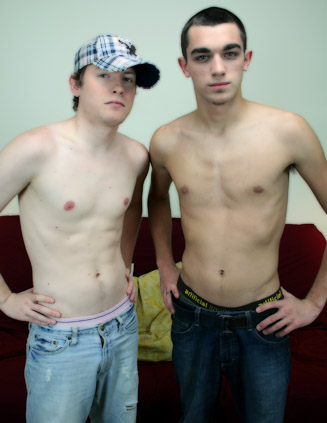 The two new boys that I paired up are Blake and Damien, and it just so happened that they called
me the same day looking for work. I arranged for them both to come into the studio at the same
time figuring that I could run through the paperwork together and possibly look at doing a casting
couch shoot. Blake was the 21 year old, gay boy that had the outspoken personality, while Damien
was the 19 year old, straight boy motivated by money. After the paperwork was finished, I moved
them into the shoot room and decided that I would put them in front of the camera to see how they
would react. I started with Blake, who seemed a little more open to the camera. He explained that
he has had sex with girls, and does so just for the fun of it. When I asked if he was seeing anyone,
he said that he was available. As for Damien, he was open to new experiences and very broke
which lead him to this kind of work. He does have a girlfriend, who has no idea what he was about
to jump into. This was going to be their first times on camera.

I explained to both of them that due to time it would be much easier if I could put them in a jerk off
scene where they just sit next to each other on the couch. When I told them I would give them
some money for doing the shoot, they seemed okay with getting started. Both guys stood up to get
undressed and stripped off their shirts. From there they took off their pants leaving them in their
underwear. Damien was 6 feet tall, had a size 10 shoe, and a 6 and half-inch dick. Before I let him
take a seat back on the couch, I had him show me his ass. When he turned back around I wanted
just a quick peek at his limp dick. Pulling the underwear down in the front, he revealed his package
to the camera. I asked Blake some similar questions so that people could get a better idea of his
stats. Blake stood 5'8", has a smaller shoe, a size 8, and said that his dick is 8 inches. To get a feel
of how I might be able to use Blake in future shoots, I asked if he likes to top or bottom. He said
that he can do either, but that he tends to bottom more.

Putting on porn for them to watch, I had Blake strip out of his underwear right away in order to jerk
off. I noticed that Damien just followed along, and stripped completely naked as well. Damien was
able to get his cock hard really quickly and was able to keep it that way. As he stroked his dick, his
big balls bounced with every motion. After a while he took them in his hand, rubbing and touching
them as he played with his dick. Every once in a while he would breathe out loud or make a noise,
but mostly the room was silent. Blake was sitting on the other side of the couch stroking his cock
pretty fast. Right away, looking him over from head to toe, his skin was very white, his body very
smooth, and his upper chest was getting a little heat rash going from jerking off.

I told the guys that they could get off at any time, just to give me a warning before went, so that I
could make sure to catch it. A few minutes later it was Blake who let me know that he was close to
getting off. As I moved over to get the cum shot, I noticed that he was already precumming. He
shot several squirts of cum onto his lower stomach covering his happy trail. I backed up to get
Damien's cum shot and he did one huge squirt that got up by his nipples and then the rest landed
around his belly button. Both guys were able to get off and didn't really seem that affected by the
camera. When I asked if they wanted to come back to do more work, I got a yes from both, so now
we just have to get straight boy to open his mind up to doing some more in the next shoot.