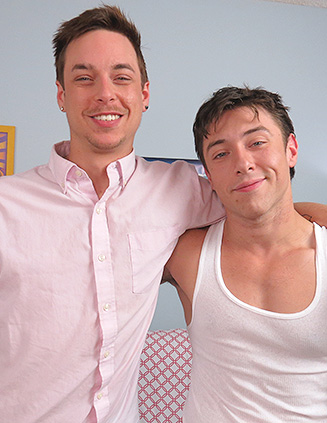 Archie and Blake start this scene making out, rubbing each other's dicks through their briefs. Archie lays back, pulling down his underwear for Blake to suck his dick. He moans in pleasure, thrusting his hips and using his hand to guide Blake's head up and down his shaft.
They switch positions, Archie kissing down Blake's chest to make his way to his dick before he starts eagerly blowing him. Archie smiles as Blake's cock grows hard in his mouth. He takes it as deep down his throat as he can, holding it there for a moment until he gags and has to pull it out.
Archie bends over, Blake lubing his ass with spit before he slowly goes in raw. Archie's dick is dripping precum as Blake slowly goes inside. Archie moans like he loves every inch of that big dick, at one point screaming "fucking pound me bro!" Blake slaps Archie's ass and they switch positions until Blake needs to cum. Archie wants that cum all over him, taking his cum on his stomach and then immediately taking him back in his mouth to clean off every last drop. He lays back next to Blake to finish himself off.