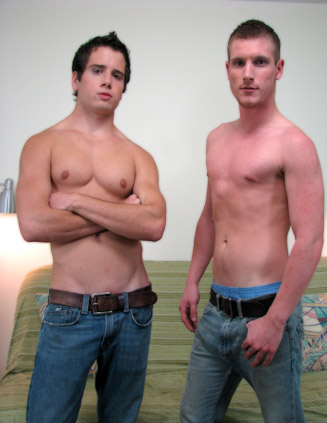 I brought Ridge and Josh back in to do another shoot, because they looked so hot the last time. In the last shoot they did oral, but I wanted them to do more and that was anal. They would make more money for doing this and it was going to be Josh first time doing anal with a guy. As for Ridge he is gay for pay, so he has sex with guys on camera, but in his private life he only goes after the women. I asked them to start getting undressed while I put on porn for them to watch. Both of them stood up to take off their shirts, it was Ridge who was a little quicker. He sat down to taking off his shoes and socks while Josh was just taking off his shirt. When both guys were in their jeans, I mentioned that they dressed alike. Josh had a little more muscle tone in his upper chest, but both had nice bodies. Staying in their underwear I had them take a seat on the couch and start working on getting hard. As they were busy jerking, I asked Josh if he has been in the gym and he said yes. When I asked him if he did any sports, he said that he likes to power lift.

The guys would have sat there in their underwear forever, but I told them to take them off when they were ready. Josh took his off right away, and Ridge just followed along. Once they were naked I could see that Josh was pretty hard, and Ridge was still working on it. I told Josh to go ahead and give Ridge some oral since he was so good at it the last time. He went right to work, putting Ridge's cock in his mouth and started sucking. In watching him give a blow job, he wasn't doing a bad job, but still had some things to still learn. However, he was able to get Ridge hard and that was all that counted, and so I thanked him for his services. Next, we needed to figure out from them which one was going to top and bottom. I first looked to Josh who said that he was going to bottom and Ridge would top. Right away, Josh said no that he was going to top Ridge. I said that the guy that bottom's would make $1500 for doing it, and Ridge yelled out that he wanted to do it when he heard how much he could make.

In order to get the fucking going I had the guys get the couch into a bed, and grab the condoms. When I asked if they were going to start out in the doggy-style position they said yes, and then Ridge would flip over onto his back. When they got onto the couch, I had Ridge show his ass to the camera, so that we could see what was about to get fucked. Ridge looked up at me and asked how long he had to stay in each position, and I told him there was no time limit. Josh didn't really care, he just wanted to get started fucking to get on with the shoot. He pushed his dick in, and his cock shot right back out. I told him that Ridge was going to be very tight, and he pushed his cock right back into the hole. Josh positioned himself so that he could place his dick to stay in. Since it had been a while since Ridge last bottomed, his hole was so tight that Josh couldn't pull his dick too far out. So, Josh didn't use huge movements and Ridge was getting board, and I just told them to relax and then things would start picking up.

Sure enough Josh started to pound harder as it became easier to fuck, and even slapped Ridge on the ass a couple of times. I didn't keep them in this position for too long, I wanted them to get more into it, so I had Ridge flip over onto his back. They were able to get going again, and something told me that Ridge liked a big dick in his ass to get turned on. When Josh lifted up Ridge's leg against his chest he was able to pump a lot more and I could show the actual penetration that they were doing. Josh was turning into a dirty talker even to Ridge wanting him to get his cock hard. Ridge's dick was getting there and I was hoping that Ridge would be able to get off while getting fucked. When Ridge let out a warning that he was getting close to cumming, Josh got excited to have him get off and he pounded harder. Josh shot his load right into his stomach and it was a good size load. Staying that position Josh pulled out and jerked off on his knees between Ridge's legs. He came onto Ridge's dick and lower stomach, and this was a good shoot. Afterward he said that fucking a guy for the first time wasn't bad, and that he would come around. We will see if that happens.