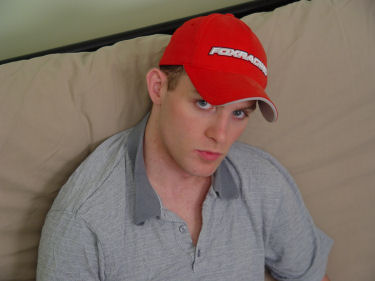 Nathan just moved to Florida to escape and to rebuild his life. He lost a good majority of his stuff,
and now that he is here he needs some extra cash. I explained to him that it was a paid interview
and that it would just be a shoot of him jerking off. He said that it sounded simple enough and
stripped down. Nathan undid his belt and pants and whipped out his cock. He was nervous so he
concentrates on just jerking off.

There was a knock at the door. It was Jordan, one of our other models. My assistant sent him back
to give me a CD. Jordan came in and had a seat on the couch next to Nathan. Nathan of course was
shocked, and was covering up his cock with his hand. Since Jordan dropped by I thought that it would
be fun to turn it into a duo shoot now. I offered for Jordan to join in but Nathan was a little hesitant.
But with a little bit more money he agreed.

Jordan pulled off his pants and underwear and then Nathan seemed to follow. Jordan pulled off his
shirt and then Nathan followed. There were two very good looking guys sitting right in front of me.
Nathan had fair white skin, and seemed very much like the guy-next-door type. Quiet, funny, fun to
hang out with, and a good head on his shoulders. While Jordan, on the other hand, had a good tan
going as you can see from his tan lines. Some muscle tone in his chest, and a great set of legs. He is
more the punk type guy who is in a band and likes to get a little wild. Both guys are great looking,
and from the looks of their bodies would be perfect for licking.

By now, you should know me. I like to throw in some surprises. I told Jordan to suck Nathan's cock.
Nathan started to flip out and didn't want any of that. He lived in New Orleans so I am sure that he
had done it before. Well, I put some more money in his pocket and he went along with it. Jordan got
down there, and went to town on his cock. Nathan put his head back, and instantly was enjoying it.
He wasn't too sure what to do with his hand, but he finally rested it on Jordan's back. Both guys
looked like they were having a good time.

In the middle of Jordan sucking Nathan's cock, I mentioned that it would be really hot for them to
fuck. Nathan stopped everything and said that things were not cool. That he did not come in for all of
this. So, I put more money down on the table, the most money that I have paid for a fucking scene,
and Nathan told me he wanted more. I told him no way, and that this would be a great way for him
to make a payment on his new life. He agreed and knew that he needed the money.

I grabbed a condom out of the drawer, and handed it to him. The two of them got themselves ready
for it. Nathan started to stick his cock in Jordan's ass, and Jordan was feeling the pain. There were
some moans and soon Jordan moved his ass all the way down on Nathan's cock. The two looked
very hot fucking, and they both seemed to get into it. They tried a couple different positions--doggy
style, on the side, one leg in the air. Of course, the last one is my favorite for the fact that we get to
see more of the cock going in the ass. Both these guys were great, and very broke. I am sure with
both these young guys will be back for more money. Keep watching!