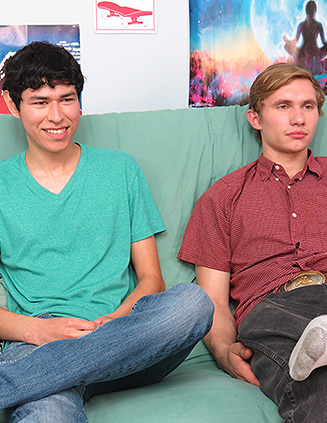 Brian and Darron's penises each harden from the girl-on-girl porn they are watching on their phones. Until Darron suggests that they 'rub one out tonight.' Brian responds excitedly with a kiss. Quickly, the covers are off, Darron takes Brian's long cock into his mouth. "You got me so hard," Brian says, holding onto Darron's hair and watching him suck the full length of his erection.
Darron's dick gets ready for its turn inside Brian's mouth, as Brian points out exactly how large Darron's penis really is. Playing with the tip and then choking himself with its girth, Brian enjoys the moments of wet contact with Darron's tight flesh. Darron challenges Brian to get his whole cock into him. A valiant attempt, but Darron's penis is much too girthy and long to fit all the way down Brian's thin, young throat.
"Do you want to try rimming now?" Darron inquires. When Brian agrees and positions himself on all fours, Darron does his part as a seasoned guide to talk Brian through the sensations he is bound to feel as Darron's tongue, and occasional finger, serenades Brian's asshole. Getting rimmed for the first time causes Brain to take gasping breaths through these new-found sensations.
Again, Darron inquires how Brian would enjoy the next of his new sexual experiences. To which Brian replies that he likes sliding himself down onto Darron's fat cock. Not-so-amateurly, Brian dips himself quickly onto Darron's member, and begins to bounce on top of him, moving his hips in small clockwise circles - Darron's cock massaging every side of Brian's asshole. Brian continues to take control, gyrating up and down and side to side on Darron's piece.
Wanting to take more control, Darron suggests Brian get on his back, and enters him from the front. A gentle rest of his hand on Brian's throat, Darron overpowers his bottom and makes intense, powerful movements against Brian's small frame. Brian moans and whines in his submissive position, letting himself get filled deeply with erect flesh. Only to be muffled by Darron's hand against his mouth, and a gentle 'shhhhhh' in his ear.
Pulling at his own cock, Brian feels the sensation building inside him - mimicked by Darron alternating between soft and hard pounding - until Darron causes himself to cum, grunting through to climax onto Brian's cock, followed immediately by Brian bringing himself to the same satisfying conclusion. It seems that Brian is learning from the best.
Please leave comments on the bottom of the page.