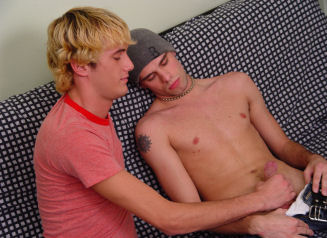 Jarett brought some guys to use before for shoots, and this shoot was no exception. He brought Marc
his neighbor who is 20 and a lead singer in his band. He needed to make some money and I
explained to him that this was a paid interview and all he had to do was jackoff.

Marc undid his pants, whipped out his dick and started to jerk off. Sitting there on the couch, Jarett
was keeping his eye on that dick. Then, for an extra $100, I talked him into letting Jarett jack him
off. Marc was really was not paying any attention to what was going on. I gave an extra $100 bucks
to have Jarett suck his dick. He told me that he was straight, and that he really didn't want to do it.
After a while he gave in, and Jarett went to town. Marc was enjoying every second of it, he even
grabbed Jarett's head, biting his lip.

Of course, I wanted to push Marc some more to see what I could get him to do. So, I offered some
more money for him to suck Jarett's dick. He started out slow, and as Jarett's dick started to grow
he got more into it. Jarett's cock was harder than a rock and was HUGE. He reached over and
grabbed Marc's cock and started jerking him off.

They both sat up and started to jerk one another off. Both guys started to speed up, and moan. Marc
was the first one to finish, squirting this thick white load on his stomach. Jarett jerked himself off to a
porn. With loud deep breathing, Jarett shot his load towards the camera. Both guys did a great
shoot, and I would be more than happy to meet the rest of the band. Maybe we could get all of them
here for a group orgy. We never know what will happen next, so stay tuned for more hot action.