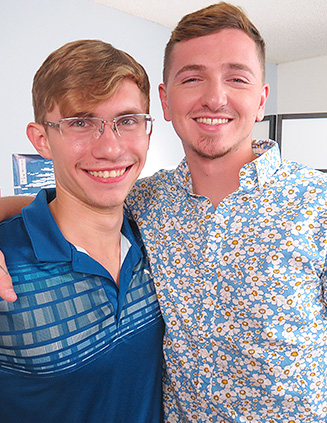 Justin rests on top of the sheets in his underwear when Darron sneaks into the room. Caressing Justin's cock slightly over the grey fabric of his underwear, Darron asks is he wants to fool around when Justin stirs awake. For further persuasion, Darron begins with his mouth on Justin's pierced nipple and his hand against his cock. Darron's mouth journeys down Justin's front to arrive at his dick, quickly removing his underwear so Justin's raw cock is on full display.
Darron immediately takes Justin's cock into his mouth, stroking it with his lips while holding Justin's soft balls - hardening his cock as Justin moans to the rhythm of Darron's mouth. Darron gives Justin's member a few more tugs with his hand, then takes his whole cock into his mouth again - using his tongue to massage all around the now-hardened penis. The Texas country boy begins to stroke his own cock now, a silent invitation for Justin to reciprocate the oral pleasure. As the Nebraska boy obliges, Darron shoves his already-hard cock into his mouth. Darron breathes heavily as Justin's firm, farm-boy hands grip his cock and make it slap his cheek. Just playing with the tip using his tongue, Justin causes Darron to breathe more heavily as he runs his fingers through Justin's sun-touched hair.
Spontaneously, Darron lurches and grabs Justin's legs, pushing him backwards onto his back with his knees near his ears, ass presented to Darron, who immediately begins rimming his hole. Justin's short breath reveals just how much he enjoys this first-time pleasure. Darron continues to lick and play with Justin's asshole. "The things I'd do to this if I could," Darron teases. He can hardly keep himself from breaking the agreement for Justin to top. Unable to contain himself, Darron asks to switch positions. Justin moves to stand behind Darron as he positions himself on all fours atop the mattress. Justin's tongue feels wet against Darron's asshole. Justin grips Darron's cock underneath and strokes it as his tongue goes deeper, running up and down Darron's tight crack.
Ready for the real showdown, Justin pushes his cock deep into Darron's ass. As he moans loudly, holding his own cock, the pleasure increases. Justin slaps the Texan's ass cheeks, pulsing inside his country boy rival. Justin glances down at the pleasured farm boy then mounts the bed to get an even deeper angle. Covering his mouth to quiet Darron's moans, Justin pulls Darron's shoulders upwards towards him to feel Darron's back against his body. Deeper and faster, Darron loves being taken by these young, hardworking arms.
Onto his back Darron moves so Justin can pulse in and out of him as he strokes his own cock, watching as Justin fucks him raw. Faster, Darron's moans reach their height as the full length of Justin's cock enters him. Justin momentarily suck Darron's toes, teasing his hole with the tip of his cock, until he returns to his fast-pounding rhythm. The Texas-boy's legs are spread wide for Justin to watch as his cock moves in and out of his asshole. Darron grips onto Justin's leg in pleasure, pulling his cock even deeper into him with every thrust.
Justin is ready to cum. He pulls his cock out and unloads all over Darron's face. Lips covered in semen, Darron sucks the last bit of cream out of Justin's dick. Vibrating with too much pleasure, Darron cums the first time as he strokes his own cock and feels Justin's tongue sucking his nipple. Darron's hard breathing and deep moans match his pleasure as cum squirts out of his cock. Before he can even exhale from the first powerful orgasm, Darron stops breathing to cum all over his stomach for a second time! His body convulses in its post-pleasure state and lets out a laugh, knowing he has truly won the country-boy showdown.
We need your input so we can improve BSB. Please rate this scene above and please comment below on how you liked it and what you liked or disliked about this scene. Thank you!