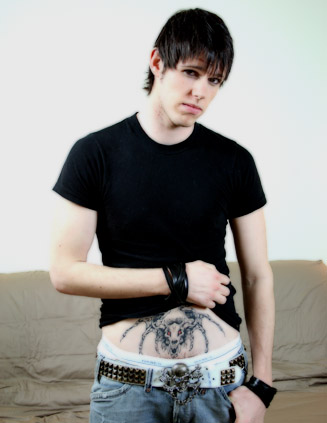 Our newest Broke Straight Boy is Kaydin, a 20 year old straight boy that would be our first emo, gothic, punk rock boy for the site. He currently doesn't have a girlfriend, but he did have one before. Kaydin is from Phoenix, Arizona my favorite state of all time. He happens to be broke because his full time job cut him down to part time hours and it has been hard for him to make ends meet. That was one reason, that he found us and was interested in making some money. I explained to him that he was doing a casting couch shoot, and so I needed him to start by removing his shirt. Standing up he stripped it off, and told me that he stands 6'1". Kaydin had a big tattoo just below his belly button of a bat, and he kept the undressing going. As he stepped out of his boats, I noticed that he had on socks of different colors, and a pair of white briefs. With his dick hard Kaydin said that his dick is around 6 inches, and cut too. Turning around to show his ass to the camera, he was a little shy in pulling down the briefs. He had a nice butt, and it seemed to have some bounce to it.
Spinning back around for the camera he stripped out of his underwear, and we talked about him wearing the wrist bands. That was when he revealed that he was interested in dominating, whipping, and handcuffs. I asked who he experimented with and he said mostly girls, but one guy. Didn't have sex with the guy, only whipped him. Taking a seat on the couch he got some lube from the table and started to stroke his dick. Kaydin didn't take long to get hard, and his cock was long and average thickness. Looking up watching him stroke off I noticed that he had big nipples, and with the piercings my hope was that when we pair him up with a guy, he will love having his nipples played with like he said. As Kaydin pumped his hand up and down he started to rock on the couch, thrusting his hips into his hand. He was simulating fucking.
Kaydin started to breathe really hard, and a little faster. I made sure to stand back not knowing if he would remember to give me a warning before he came or not. Well, he didn't but when he started to shoot his load the cum, came right on to his tattoo. The bat was covered in cum and it was hot to see, that he was able to shoot so much. Kaydin said that he felt relieved to get off, and he said that he likes to get his dick sucked. He said that he likes all kinds of girls, especially to get freaky with them. I asked him if he would want to come back to do some more work, and that I would have some surprises for him the next time. He seemed down, and that he wanted to make enough money to get a full bat tattoo. We will just have to see what we can get him to do next time on Broke Straight Boys.