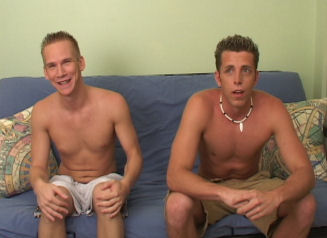 Chad just lost his job at the hospital so needs some cash and fast. Fabio just quit his job and his
girlfriend is high maintenance and likes expensive gifts. I give them a layout of what we are looking
for, and tell them that I need them to get undressed. Neither of them had ever messed around with
another guy before. I ask the guys to take off their shirts. They want me to pay for that. Sure, I will
bait on that. And then we get to the boxers and both guys hesitate but with some more money all
the clothes come off. Money is very important in getting what I want out of these boys. Both of these
guys have huge, amazing-looking cocks. Soon I have Chad jacking Fabio off and Fabio sucking
Chad's cock. When it's Fabio's turn to have his cock sucked, he says that it's better than his girlfriend
does it. Sitting back on the couch, both guys jack off next to one another.

With cocks being stroked and boys getting sweaty, this is turning into one hot shoot. Chad's load
goes all over his chest, and of course, do you really think this boy could do anything small with a
cock that big? As for Fabio, he's having a little trouble getting off, and asks for some help. Chad
wants to go get his money and get out of there, so he drops to his knees and plays with Fabio's balls.
As Fabio gets closer to finishing, he picks up the speed in stroking. You can tell that his muscles start
to really tense up and he shoots his load all over this chest. As soon as that happens both guys start
talking about their money so they can get out of there. I try to get a feel for what they think and the
boys tell me they think they will be back because they don't want a real job. And money will keep
their girlfriends happy. Just maybe in the next shoot, you might see these guys do something a little
bit more.