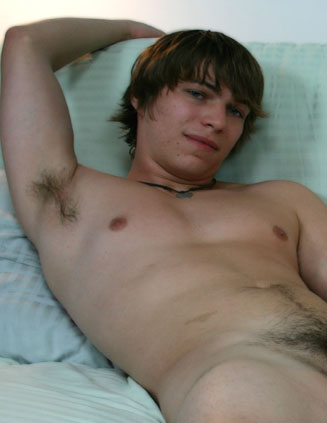 I got a call this week from two guys that were dorm-mates, that were looking to make some money. I explained to them over the phone that we were a gay owned and operated studio. In order to do some work with us, they might have to try and do some things that they never thought about doing. Both seemed to be down, and just more or less wanted to know about the money. We setup a time for them to come into the studio to possible do some work. When they arrived at the studio, I started by giving them a tour. After talking for a brief time, they filled out the paperwork and moved over to the couch in front of the lights. I wanted to get to know them a little bit, and had them introduce themselves on camera. The first guy on the left was Robert, who was 18, straight, and had a girlfriend. Alden on the other hand, was older, 21, straight, and taking his time in school.

We talked about how they started talking to another model that had done some work with us, and he was the one that told them about the money that they could make. I asked the boys if they had ever jerked off with another guy in the room, and Robert said no. However, Alden said that he had one time hung out with a group of guys and they all watched the same porn and got off. The only thing was that they didn't touch each other. I told them, that maybe we could repeat that for the shoot, and then maybe if that went well, we could have them come back for more. I know that when I brought up the idea about blow jobs, and fucking guys both of them seemed to get a little scared. Alden said that he really needed to make money to pay for school. I asked them to take off their shirts to get started. As soon as I said that, Robert started to back out of the deal. He said that he wanted some more time to think about it, before he got naked for the first time on camera next to another guy.

Alden said that he wanted to get started, and then the game plan we talked about doing was that he would go back to their dorm room after his shoot and tell Robert what went on. That would give Robert some more time to think about it, and I could still get a shoot done for them coming down to the studio. Robert got off the couch and left the studio. Focusing on Alden I asked him how many times he jerks off a day, and he said sometimes once a day, or up to three times a day depending on the girls he sees. Taking off his shirt, he revealed that he was in good shape, and spends some time in the gym. Rock climbing, snorkeling, and bike riding are just a couple of the things that he likes spending his free time doing. Putting on a video, he took off his shorts, and revealed a pair of white boxers as he prepared himself to get off to porn. Turning around I had him show his ass to the camera, and then took a seat to start playing with his dick. Jerking off he was working on getting fully hard and being shy about showing his dick to the camera. Changing position he got a little more comfortable on the couch and took off his boxers.

Trying to block the camera and me out, Alden laid down to keep jacking off. Taking a handful of lube he covered his dick and his hand giving him more of a gliding motion. He kicked his legs a lot, and tighten the muscles in his legs, showing the signs of a soon coming orgasm. His breathing started to change, and he let out a warning that he was about to blow his load. Alden came, shooting his load all over his chest. His built up load over the last couple of days showed, from all the liquid on his chest. I told Alden that I hoped we could get him and Robert to come back soon to do a shoot together. He said that he would talk to Robert and would get back to me. Look forward to seeing if I can get the dorm-mates back in here to do a shoot.