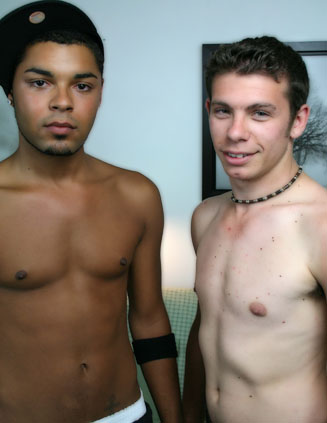 Dexter called me up completely out of the blue and wanted to some more work. I told him that we could for sure get him in. He told me that he had a friend as well that would be interested in doing a shoot. We setup a time for him to come down to do a shoot, and I told him to bring his friend along with him to see what everything was about. When they arrived the day of the shoot we talked briefly and then I wanted to get started, because I had a full day with another shoot right after that. I talked them into doing a shoot together, so that way we could just see what would happen. The two of them took a seat on the couch and were ready to begin. I reminded the members that Dexter had been with us before, but that it has been a while since his last performance. He said that he had been busy working and going to school. Right now, his school bills had him so stressed out that he called me up to see if we could help him out.

Moving the camera over to Malachi, I wanted to learn what his story was all about. He knew Dexter from school, and heard that Dexter did this kind of work to make some extra cash. He was interested in making some money, and Dexter had given him a little heads up on what everything was all about. I asked if he knew that Dexter was a little bi-curious and that it was more like gay for pay. He said he realized that, and would just keep things quiet from his girlfriend. I told him a little about the company and what we would be doing in the shoot. He was a little caught off guard, but seemed to just go with the flow. Talking about stroking each other's cock and dick sucking Malachi's face turned red. He asked if he really had to give head, and I said yes. Both agreed to keep going with the shoot, and to help make him comfortable in the shoot Dexter would give head first. To get started, I had them take off their shirts. Throwing their shirts to the floor they immediately took a seat. I asked them to take off their shorts, and had to stand once more. I noticed Malachi had a tight butt in his boxers, and had him show it to the camera.

The two boys sat there on the couch starting to touch themselves with their underwear on. As they got hard, Dexter was first to pull out his cock to play with, then Malachi followed. Dexter seemed to be on his way to having a boner, and so I had him start to give a blow job. He bent over and took the cock in his mouth, but I told him to take off the boxers. Malachi sat back grabbing the back of the couch and watched Dexter give him head. After a moment his left arm came down and went on the back of Dexter's neck pushing him down even more. Moving in for a closer shot, Malachi was getting hard, and seemed to be enjoying the head. Thrusting his cock into Dexter's mouth, he began to fuck it like he would a pussy. Grabbing the hair on the back of Dexter's head, Malachi was showing that he wanted to be dominating. He got vocal telling Dexter to suck it!

Pausing to take a break Dexter sat up and was tired of giving head. It was now Malachi's turn to give head. I told him to give it a try, and he didn't want to. I offered him some more money to at least try it. He took it in his mouth and then spit it right back out and got up. Malachi was trying to get out of it, but I told him that I wanted Dexter to at least get hard. Once again he took a seat on the couch and took it in his mouth. He was able to get it all in his mouth and Dexter had a raging boner. Malachi jumped to his feet saying that he had enough. The two of them then sat next to each other on the couch to jerk off to the porn. They both seemed to be jerking off pretty fast as they stroked their cocks, so I knew that it wasn't going to be long before they got off. Malachi started to breath really heavy out loud, and then I saw a couple of pre-cum appear on his lower stomach. A moment later he came shooting cum on his chest and stomach. Actually, he got a big shot all the way up on his shoulder. Dexter had to watch the porn a little longer, but he shot his loud which was just as much as Malachi. However, most of the cum went on his hand, and pubic hair. Both of them did a great job in the shoot, and I asked if they would come back to do some more work. Malachi's response was that he needed more time to think about it, and of course it will take more money. We will just have to wait and see if they call me for more work here in the near future, so keep watching to see who we have the studio next.