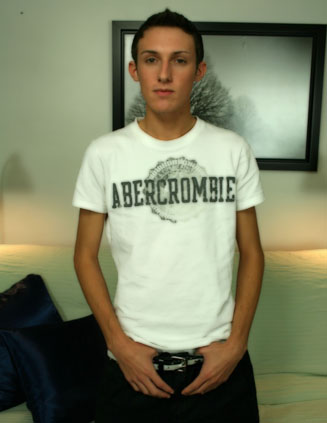 Boys with accents are hot, and always seem to grab the attention where ever they are. The phone rang one day last week and in answering it, I could tell that I had somebody who was not from around Florida. He introduced himself as Trevor, a 19 year old, student, that just moved here to go to school. Looking through the college newspaper he came across our ad, and wanted to see what we were all about. I gave him a brief over view, and he told me that he would come down to check us out. When he arrived I told him that he would start off with a solo shoot and what that involved. Trevor said that he was down for getting started. Moving over to the casting couch he took a seat, and I started filming him while I asked him a bunch of questions. Now, before you start yelling and emailing saying that he is gay. We honestly talked off camera for about an hour before filming, and he admitted that guys are hot. He just has never had a chance to have any sexual experiences with any. Of course, right away I knew that we could take care of that and see if this just might be Trevor�s way of coming out.

To get started in the shoot, I told him that I needed him to take off his shirt. Pealing off his shirt, he was tan, tone, and spends time in the pool. I asked him a lot of personal questions, just so that we could get to know him. Plus, it makes the models feel that they�re not being pushed through the shoot. Trevor didn�t really seem to be dating much, but his last girlfriend was here in the states. Standing up I wanted to get a better look over his body. As he stood in front of me I couldn�t help but reach out to see what this boy was packing in his briefs. In touching his cock I could tell that he was hung, and tugged the underwear down to see what was underneath. He took them off and had a seat on the couch. As Trevor started to play with himself, he said that he doesn�t jerk off all that often.

When it comes to Trevor and having sex, I could tell right away that he isn�t very experienced in knowing what he likes. Getting down in front of him, I reached forward just to see if he liked to have his balls touched. They were very smooth, and I could tell that he had shaved right before the shoot or the night before. He said that he has never had his dick sucked and only fucked girls when he has had sex. The room fell silent as he stroked his dick and worked to getting close to having an orgasm. Trevor was great in giving me a warning that he was getting close. I gave him the go ahead, and he shot his load all over his chest. It was a big size load that was creamy in color, and runny. I told him we would get him cleaned up, but that I wanted him come back for another shoot. However, the next time I was going to pair him up with a guy and we would just take things one step at a time. Stay tuned to see what Trevor will try for his first time with a guy.