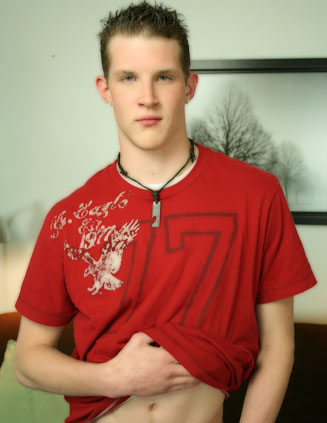 Scott Knight called me up and wanted to do some work for the first time on camera. He is 100% straight and never done anything with a guy before. His current retail job just hasnt been bringing in enough money for the things that he has to pay for. Scott recently just got together with a new girlfriend after only being out of a relationship for a few weeks. Being with someone requires money in order to take them out and have a good time. Scott hasnt been able to do a whole lot with her due to money being so tight, that was one of the reasons why he decided to give this a shot. I talked to him for a bit on the phone to see if this was something that he would want to try. He agreed to come down to the studio and start with a solo.

Keeping a conversation going, I asked Scott about his stats as he started to go for his clothes. He removed his shirt first, and in doing so we found out that he is over 6 feet tall, 165 pounds, with a size 12 shoe. When it comes to sports, he likes to do swimming and basketball to stay in shape. In high school he did it all, and considers himself a jock, besides spending some time at a chess board. Scott did seem to spend some major time indoors, because his skin was ghost white and in dire need of a tan. I had him stand up for the camera, because I wanted to find out if he had an ass or not. He turned around, and pulled his shorts down. Standing there in his tightie-whities, he looked like a pretty hot jock. Pulling the underwear down, he had a tone, firm ass that was very much in shape.

We found out that Scott likes to jerk off without lube, and tends to be a shooter when it comes to getting off. I told him to take off his underwear whenever he was ready, and let me know right before he shot his load. Pressing play on the porn Scott started to play with himself and rubbed his body. He didnt take to long before he pulled his underwear down to stroke his cock. I couldnt help myself with this hot boy sitting in front of me, never been touched by a guy before. I stepped forward, and took a hold of his cock. Giving a couple of strokes, he didnt seem to be bothered by it. His girlfriend had never touched or played with his ass before. Scott said he likes to have just hot, fun sex with his girlfriend. Sitting there jerking off, he would rub his chest, and gave me just enough time to pan over his body.

Breathing deep, and letting out a couple of moans, Scott seemed to be picking up the pace with stroking his dick. I figured that it wouldnt be too long before he would shoot his load, so I got in place and ready. His face got bright red from holding his breath, and he let out that he was going to cum. Scott came and his cum went every where on his body. A big giant squirt went right on his leg in front of the camera. His hand didnt stop moving, and cum just kept coming out of his cock. Scott made $200 for jerk off, and I told him that I would pay him even more money next time. The only thing was that he was going to have to do it with a guy then. He said ok, and I told him that I would be giving him a call real soon.