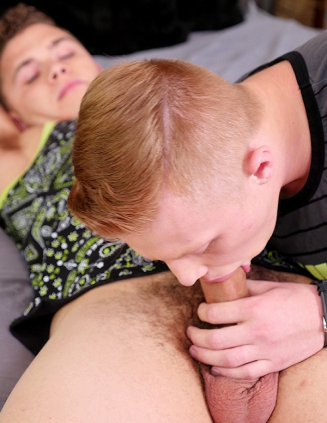 Tanner Valentino has been cooking a delicious dinner for the guys all day, so now he's ready to kick back and relax, and what better way to relax than having sex? His partner Zach Covington is eager to get things started, pulling off Tanner's shorts and sucking that fat cock until it's standing straight up, and when Zach wants head he dangles his dick over Tanner's face and makes him suck it.
Zach's ass gets some attention too as Tanner gives Zach a rimjob, running his wet tongue over Zach's tight little hole before getting behind him and slowly sliding his long, throbbing cock into Zach's ass. Zach moans as his ass gets stretched around Tanner's length and width and as Tanner buries that prick deeper and deeper into Zach's entrance he moans Tanner's name and begs him to smack his ass!
Of course Tanner doesn't hesitate to give that fine ass a good spanking and then they flip around to another position, Zach's legs spread and Tanner's big dick fucking Zach raw! Zach grabs his own cock and pulls on it fast, making himself nut all over and Tanner keeps his bareback dick inside Zach a little longer before pulling out and giving Zach a facial!