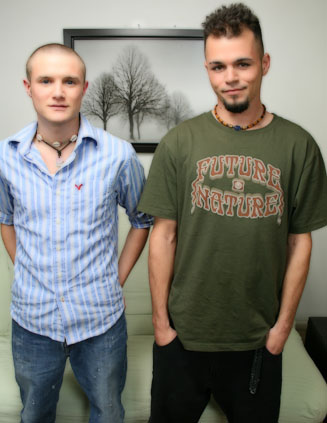 Hollywood and Ashton are back again for another shoot, like we had hoped. In finding out what they did with the money they made from the last shoot. Ashton took his girlfriend out to dinner with the money that he made. That night he was given some sex in return that he had been waiting for. Hollywood ended up handing his check over to his wife, where she spent it on clothes. Married life!! Now, something that I hadnt asked in the first shoot was how Hollywood got his name. He told me that he got the name from his friends and it just stuck. To refresh everyones memory, the two of them know each other from their girlfriend and wife. To make this shoot happen I had to spend a long time on the phone talking to each of them to talk them, since the last time they were here into trying another shoot and going a step further. In doing so, I told them that if they gave each other a hand job, that I would pay them $400 a piece. I am going to be completely honest in that Ashton was the easy one to say ok. Hollywood on the other hand really took a lot of talking too in order to say yes.

Nerves get all the models especially for the fact that straight boys just dont like being around other guys naked. So, when they have a chance to get out of something theyre going to try it. I knew that I just had to push to two of them along, and they would do fine in the shoot. I had them stand up to start to get undressed and things would just happen. Each one went for different clothes at one time, and Hollywood was the first one to be completely naked and sitting on the couch. They needed to have something to take their minds off of what they were going to be doing. I put on a porn in the background. Hollywood joked around about wanting the girl from the porn, rather than Ashtons hand on his dick. I told him to just close his eyes and pretend it was his wife touching him. Ashton was having a little trouble in getting hard, so I had Hollywood reach over and take a hold of Ashtons dick. Ashton got rock hard! I had Ashton reach over and squeeze Hollywoods dick as well. The two of them sat there jerking each other off, very slowly and almost to the same pace.

I complimented them a couple of times throughout the shoot to try and boost their confidence levels to keep going. Bring up the idea of them sucking dick, they quickly got turned off and pulled away from each other. Hollywood tried to get off the couch, and they said that they wanted more money. That was just what I wanted to hear, money would motivate. Everyone has a price, so I asked them what it would take for them to put a dick in their mouth for the first time and give a blow job. Ashton spit out that he wanted double the amount of money that I already had to pay them. For me, $800 was cheap to see this kind of action from straight boys for the first time. To find out who would go first, we did something new here on broke straight boys. We flipped a coin. Ashton lost the coin toss, and so he bent over Hollywoods cock. I gave him a couple of pointers and he started.

Cock in mouth Ashton was doing a pretty good job for his first time, and he was a little nervous about Hollywood blowing in his mouth. Hollywood said there was no way, but I said I would pay more to see it. Ignoring me they kept going, and Ashton tried to give a blow job that he would like. After a while, Hollywood made the comment that he was liking the blowjob. Even licking his lips and moaning. Switching things around, it was Hollywoods turn to suck dick. He bent over and smelled Ashtons dick to ensure that it was clean. Hollywood only took in about an inch or so into his mouth, but Ashton was liking it. He said that Hollywood might be better than his girlfriend. Ashton watched Hollywood suck on his dick the whole time. Laughing about it, the comment about Hollywood having a goatee and his girlfriend not caught everyones attention.

Hollywoods mouth was getting tired and so he sat up and jerked off Ashton. In leaving them alone, I figured they were going to get each other off. Hollywood started to stroke a little faster and I was hoping it was going to happen. But, after a while I just got tired of waiting for Ashton, so I told them to jerk themselves off. The boys beat their meat, and in doing that the Ashton's girlfriend called his phone. Ignoring it, they kept going and Hollywood came first. The load went all over his and dick. For the second shoot he did another big size load. At almost the same time, Ashton shot his load, and came on his stomach. This two seemed to be in sync with each other. I told them that I would like them both to come back and fuck next time. They told me no, and that it wasnt going to happen, but with more money who knows.