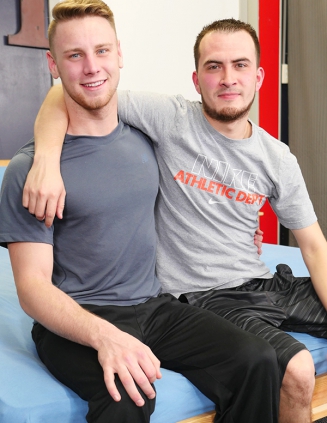 David Hardy is in the studio with newbie Brandon Evans, and we've paired them up for a reason: David has a reputation for breaking in the new guys! And there's no better way to make a first-timer comfortable than jumping right in with some kinky foot fetish moves, but then David goes in for the oral as he's looking to get Brandon hard and down to fuck!
It doesn't take much work with David's skilled tongue to get Brandon's cock standing up, and once that happens David lubes up and climbs on top of Brandon's prick, lowering his ass onto it and riding that dick. Brandon instantly loves the feeling of David's tight ass around his fat cock and he fucks him hard, getting David into another position so he can pound him deeper until they take a break to 69.
These guys enjoy every sensation, switching between raw ass-pounding, rimjobs, making out, and everything in between, they have their fun with each other and when Brandon puts his bareback dick back inside David, it's not too long before both these boys are busting a nut onto David's chest and all over the bed!