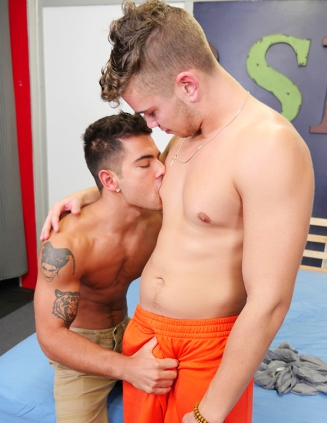 Vadim Black and Tanner Valentino, two of the highest rated guys on BSB, together to fuck and suck and bust a nut, so you know it's going to be one sexy scene! Some kisses and making out leads to the shirts coming off and Vadim stripping his partner bare, pulling of Tanner's boxers and taken that big cock in his mouth, sucking on Tanner's balls and licking that long shaft while Tanner thrusts it deeper into Vadim's mouth.
Of course, Vadim gets his turn next, getting his meat licked and sucked, and then 69ing so they both get to enjoy each other's cocks before the real fun starts! Vadim lubes up Tanner's tight ass, fingering his hole while he gives him oral, then a rimjob next as Tanner moans for more…and Vadim certainly gives him more! Vadim slowly slides his hard, bareback cock into Tanner's entrance, going gentle to give Tanner time to warm up before he starts fucking him harder.
But if that wasn't hot enough, they flip next and Tanner gets to bury himself in Vadim's ass, but Vadim has a lot harder time taking a dick than Tanner did! Biting the pillow, Vadim pushes back onto Tanner's cock and gets his ass stretched, but he's not bottoming for long before they flip again, and this time both guys shoot a huge load!