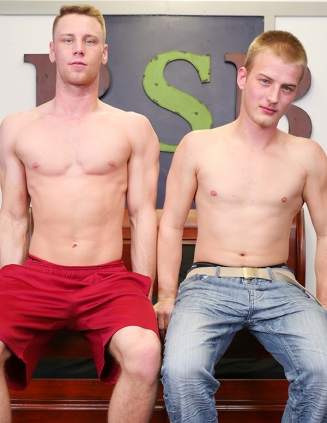 Jason Sterling came to the studio half naked and ready to fuck, and Brandon Evans falls into stride pretty quick as he strips down after they exchange a few kisses! Both in boxers, these boys make out a little more before Jason is reaching for Brandon's cock, freeing it from his boxers and capturing it with his mouth as he licks and sucks that delicious meat. Jason sucks on Brandon's balls, getting him hard as he pulls his full length into his mouth, then he gets to sit back and enjoy some oral next as Brandon goes down on him.
Brandon deepthroats that dick and plays with it with his hand as Jason sits back and enjoys, then gives Brandon head one last time before Brandon bends over and opens his ass up for Jason. Jason can't help but bury his face between Brandon's sweet ass, spreading it apart and rimming Brandon's tight hole before he buries his bareback cock in it, stuffing that dick all the way into Brandon's entrance as Brandon tries to relax and take that cock.
They move to the bed where Jason fucks Brandon from behind some more, then lies back and lets Brandon take charge and ride that cock. Brandon takes it slow as he moves his ass up and down over Jason's throbbing dick, but when they get close to release they try another position and Jason teases Brandon's feet while Brandon strokes a load out! Jason fucks that ass raw a little longer before he pulls out and drains his cum all over Brandon!