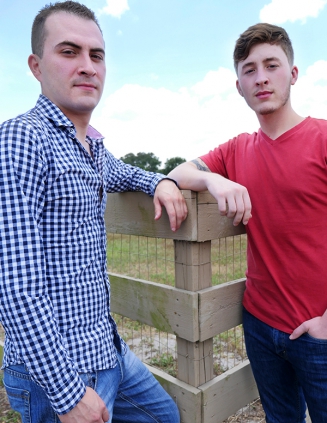 Danny Cannon hasn't had much experience in the studio yet, but he's ready to skip the oral scene and go right to bottoming because he needs the cash and needs it fast! Since our innocent newbie needs to be broken in carefully, we've brought in an expert: David Hardy. They get to kissing, and David takes the lead, showing Danny what to do and how to do it, until Danny starts to loosen up and follow David's lead.
David gets on his knees and teases Danny's cock as he sucks his nipples, clearly taking his time and making sure Danny is enjoying the experience. When it's time for oral, David lets Danny go down on him first, learning through trial and error as David enjoys every stroke of Danny's inexperienced tongue across his cock.
After David gives Danny some oral in return, he also gives Danny's ass a taste of what's coming as he fingers his hole then lubes up and slides his bareback dick into Danny's virgin ass. The look on Danny's face is a mixture of pain and pleasure as he takes David's hard cock, getting fucked raw by David, who knows just how to treat Danny's sore ass. David pounds Danny until they both finish with an impressive cumshot and make a mess on Danny!