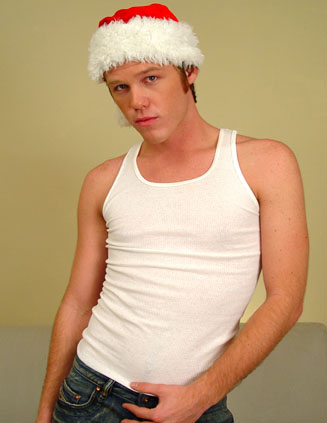 Chad came down to have a little vacation and want to do some work with us. After he arrived he
wanted to go to a bar for the night before we were supposed to do the shoot the next day. Of course,
he has been studying hard for school and just wanted to go out to celebrate the holidays. I know that
he got pretty wasted at the bar, and was dancing with anyone that walked up to him. It's a great
way to have fun, but Chad has a tendency to go a little overboard. I guess his friends had to pull him
away from a well known prostitute, because he was getting a little too friendly. That is when I got a
call at 3 in the morning to come and pick him up.

He slept off his hang over, and then was in a good mood to do the shoot. He had a seat on the couch
and I asked him to just go ahead and start to get undressed for the camera and to put on a show. As
he stripped down he was wearing a jock strap on under his jeans and I had no idea that he was into
those. Chad has a great ass, and likes to show it off. With a little bit of lube he was all ready to start
to get turned on. The biggest turn on for him is the sensation of just starting to get hard from being
aroused. As you can tell Chad is a guy that loves to have all the attention turned on him.

Sitting on the couch he stroked his cock, nice and slow for the camera. He is one that is never in a
hurry, so he likes to take his time in making sure that he is going to have a great orgasm. At one
point he had both legs up on the couch and had positioned himself so that I could see his asshole. He
knew that I was down there and started to rub his asshole a little bit. That is when he slid his finger
right inside. He fingered himself for a few minutes, before going back to concentrating on just jerking
off.

Chad came right on his stomach and seemed very relieved that he had just blown his load for us.
The load was a good size too, and he had mentioned that he hadn't gotten off for a couple of days
before the shoot. Since we were so close to Christmas I had a Santa hat in the room to get all the
models into the holiday spirits. He put it on to show off for the camera to wish all the viewers happy
holidays. My plan is to bring Chad back with another model here, so that I might be able to get him
fucked on camera for us. I am sure that he would do a great job, and would even enjoy the dick in
his ass.