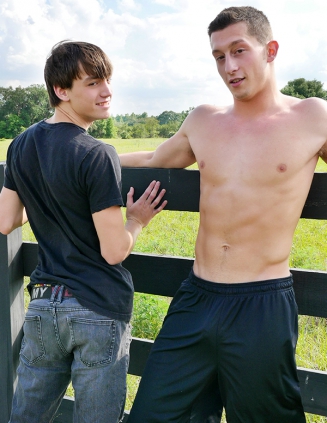 Drake Tyler and Zander Floyd are ready to get down and dirty for us today, and after the usual small talk and catching up, these boys get right to it! We're not kidding…no foreplay, no kissing, they just strip their clothes off and Zander gets on the bed on his stomach while Drake climbs on top.
Drake goes in slow, knowing that Zander's tight ass didn't get any sort of warm up, but once he's deep inside of Zander he starts to pump him faster, filling his tiny ass up with that huge dick as Zander takes it without complaint! As Drake pounds him, Zander's ass jiggles a little with each thrust until Drake pulls out and wants some oral, which Zander immediately agrees to as he bends down and takes Drake's cock, which was just buried in Zander's own ass, and shoves it down his throat.
Drake reaches over and fingers Zander's asshole while Zander sucks him off, then they go right back to fucking, Drake's hard dick wet with Zander's spit as he fucks him with it! We finally get some kissing next as Drake lies down between Zander's legs, making out and sucking on his nipple before sticking him with his bareback dick again! While Zander gets fucked raw and hard, he strokes out a huge load, and the sight of all that hot cum makes Drake finish their fuck with an amazing cumshot! Poor Zander is definitely going to need a shower after that one!