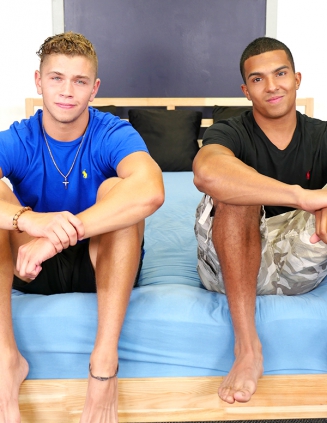 Tanner Valentino and Devon Felix are both new faces around the studio, both only having completed their solo scene so far…but we've got more in store for them than just jerking off today! For never being with other dudes, Tanner and Devon sure look like they're enjoying the sexy kisses and gentle touches as they make out, moving their hands down south to rub each other's cocks through their pants.
But soon, those come off too and they're naked, lying on the bed and Devon's mouth is full of Tanner's cock as he sucks and strokes it, getting used to the new sensation of a fat dick in his mouth. They take a break from the oral to make out more and then it's Tanner's turn to go down on Devon as he pushes Devon's dick as back as his inexperienced throat can stand!
After some more sucking they get into the 69 position so that they can both enjoy a good face fuck, then Devon gets a little more assertive, straddling Tanner's face and thrusting his dick down his throat until he's ready to come. When they've both had their fill of cock-sucking, they lie back, relax and jerk each other off until they're both covered in cum!