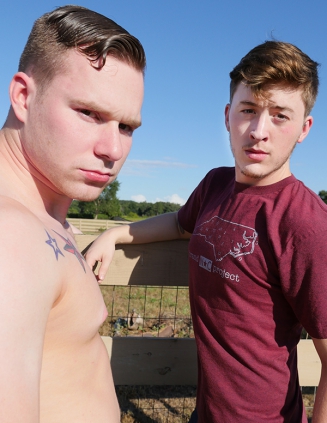 We've got Owen Michaels and Danny Cannon in the studio today, and we've paired these two up so that inexperienced Danny can learn something from Owen's ass-fucking expertise! When we set them loose to do their thing, Owen moves in for a kiss, making out with Danny until they lose their shirts, and then Owen starts to move down south.
Danny lets Owen kiss him all over, nipples, chest, stomach, you name it and Owen's mouth was on it as he gets Danny in the mood. But of course there's no quicker way to get a man going than to wrap your mouth around his cock, and that's exactly what Owen does next! He's on his knees in front of Danny, giving him some amazing head as Danny closes his eyes and enjoys every pass of Owen's lips across his shaft. Next is Danny's turn to get on his knees and give Owen head, and he does pretty well for a newbie, even massaging Owen's balls a little as he sucks him off.
After Danny's mouth has been on his prick for a while, Owen is ready to claim that ass and he bends Danny over the bed and shoves his bareback cock inside him, showing little mercy as he fucks Danny hard and deep! They try a few different positions, giving Danny a taste of what it's like to take a dick from all angles and the expression on his face is a mixture of pleasure and pain as he gets fucked raw then cummed on by Owen. After that epic cumshot, all it takes is a few more strokes and Danny's jizz comes dripping out of his dick too!