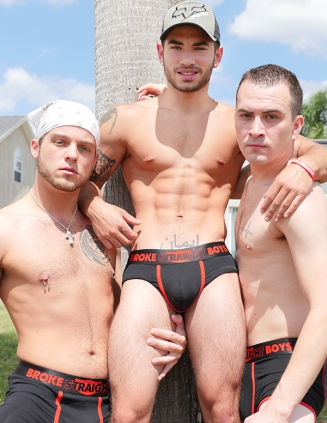 Vadim Black has been fucked hard by Zeno Kostas and David Hardy, but now it's his turn to get revenge by pumping these guys full of his cock until they can't sit down for days! A threesome seems almost natural to these boys as they strip down, make out, and take turns sucking Zeno's dick as he lies back and enjoys. David leaves Zeno's cock to Vadim as he gets some oral from Zeno, and then it's David and Vadim getting head.
The guys are hard as fuck after all this cock-sucking and they need somewhere to stick those fat pricks and it looks like David is first up to get his ass dominated by Vadim! Vadim slides his bareback prick into David while he sucks Zeno off, and when David's tight ass needs a break then it's Zeno's turn to take Vadim's meat and Vadim spreads Zeno wide open so he can bury himself deep inside. Zeno's into bottoming today as he bends over for David next, then Vadim enters David while he fucks Zeno.
Finally, Zeno gets to top David as he and Vadim take turns pounding David's sore ass until all that raw action makes David cum hard. Zeno almost can't hold back and pulls out just in time to let us watch him drain his cock on David's asshole, then Vadim busts a nut there too and shoves all that jizz back into David's ass, finishing this hot fuck with an even hotter creampie!