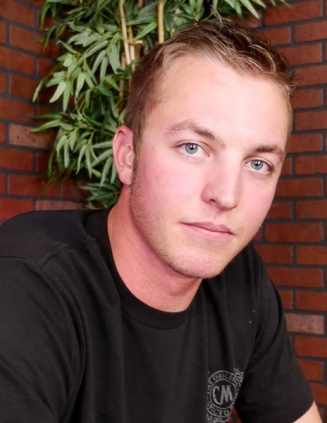 Brad Brown is a Midwestern stud who's into all kinds of sports, he enjoys a good adrenaline rush once in a while and isn't afraid to try new things…including porn! He heard about the opportunity to make some money by fucking and getting fucked and he decided to give it a shot, so we're trying him out with a solo scene first.
As with most newbies, he's nervous, but when he strips down it's clear that he has no need to be shy with a fit body and fat cock like that! He sits back on the couch, closes his eyes and strokes his dick, playing with his balls, and clearly enjoying the feeling of his hands on his own body as he jerks that prick.
He's so caught up in the pleasure of the moment that he's not even nervous at all anymore, and the more he masturbates and yanks on that hard cock, the faster he goes until he can't hold back any more and he stands up to shoot his white-hot load. At the end of his sexy solo scene, Brad reveals a fetish for feet, which could prove to be very interesting as he gets paired up for more hot action!