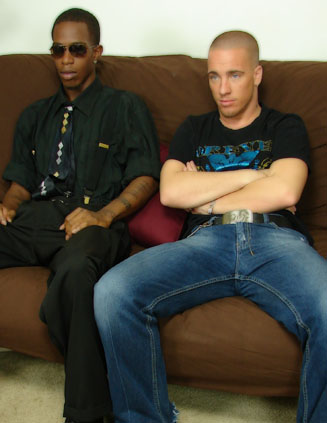 Tony and Justin are back again for another shoot. Each one of them had done a solo shoot for us,
and then they did a duo shoot together that included some oral. Both of them did such a great job in
the duo shoot that I wanted to see them come back in to do another duo shoot together, but I
wanted it to include anal. So, when they arrived to do their second duo shoot together I could tell
that they were both a little more nervous than in previous shoots. I asked to see which one was
going to get fucked and neither one really jumped to volunteer. Tony had never taken a dick as big
as Justin's and then Justin did not want to get fucked by a guy. I didn't know exactly how this was
going to go down, but I offered them both $900 each to see a really good fucking scene.

Standing up they both stripped of their clothes and got naked rather quickly. Stepping into each
other they took a hold of each other's cocks and started to pull. Taking a seat on the couch, Tony
started to give Justin oral right away to get him turned on and hard. I know that it was going to take
a bit for that huge cock of Justin's to get hard. Justin grabbed the lube bottle and started to jerk Tony
off. Tony got into more of a 69 position and that is where they were able to both start to suck some
cock. However, it looked very uncomfortable in the position that they were in, so I told them to open
up the couch into a bed. Both of them were turned on, and getting really hard with all the foreplay
that they were doing.

Behind them on the stool was the monster XL condoms that we had to dust off for this shoot.
Wiggling his cock up and down Tony's crack he teased him with wanting to get fucked. After the
condom was on, Justin wasted on time before he stuck his cock right in Tony's ass sending him
jumping. As the cock worked its way inside the tight asshole, Tony would push away. But, Justin
pounded his ass at a steady rate not giving him a break from the fucking. Tony was doing very well
with taking all of that 11 inches in his whole. After a while I had them switch positions, because I
wanted to see Tony on his back. In the new position, Justin was able to start pounding away again at
a really good speed, which surprised me that Tony was that relaxed. What was nice about the big
dick is that we could see it going in and out a lot easier in this shoot. Tony even yelled out that he
was about to cum while getting fucked and that was good news because that meant he was very
turned on. The fucking continued to see if he would get off, but Tony yelled out that he needed a
break from the fucking and the two pulled apart. He laid there on the bed for a few minutes just
resting; giving his ass a chance to relax. While Justin sat at the edge of the bed and stroked his cock.

The two even 69ed for a second time in the shoot on their own to see if they could get closer to
having an orgasm. Down on his knees Tony sucked on Justin's cock giving it a good service from tip
to base. When they felt that they were getting close they got back up on the bed, and Tony was on
his back. Justin stroked his cock on his knees between Tony's legs preparing to blow his load all over
Tony's cock and stomach. After a good couple of minutes, Justin started to go faster and to have his
orgasm. He blew his load all over Tony's cock, and Tony used some of it as lube as he stroked his
cock. It only took a moment before Tony came on his stomach as well. They did another good shoot
together and I was glad to see that we got to see some great fucking with these two. I will just have
to see who my next pair will be to compare.