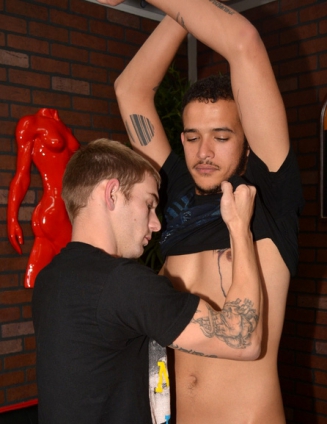 It's Jaycee Barker's first time bottoming, so hopefully Dakota Ford will go a little easy on him…but we can't make any promises! The fun starts when Dakota catches Jaycee jerking it to some porn and he decides to join him, pulling down his pants as he takes a seat next to Jaycee and starts stroking his cock.
They work those dicks a little before stripping down and getting right to the oral as Jaycee kneels in front of Dakota and sucks on that big dick, taking his balls in his mouth as he gets him good and hard. Of course, Dakota's hungry for some meat and shoves Jaycee's long, curved cock in his mouth, trying his best to get that thing down his throat!
Once these boys are done with the foreplay, Jaycee knows what's coming and gets on the bed, spreading his ass apart for Dakota's bareback prick! Dakota tears that ass up, going fast and deep as he slams into Jaycee, fucking him raw as Jaycee moans in pain as his ass gets stretched. Each hard thrust makes Jaycee's ass bounce as Dakota's balls slap against him, and they try a few different positions to see if that helps, until finally both of these studs are blowing their hot load and Jaycee's sore ass can start to recover!