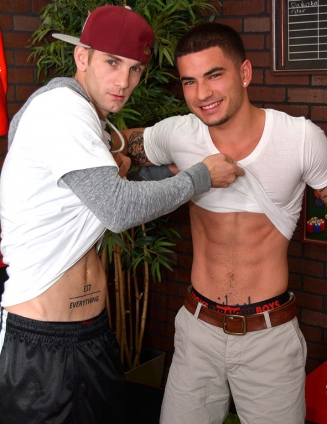 Vadim Black and Dakota Raw haven't had the pleasure of doing a scene together before today, and they're mixing it up even more by having Vadim top instead of his usual position bottoming. These two studs exchange some kisses before undressing and getting straight to the oral, Dakota going down on Vadim first and deepthroating that hard cock, letting Vadim face-fuck him and shove that thing down his throat.
But Dakota gives him a taste of his own medicine when Vadim gives him head, ramming that cock down his throat before they 69 for a brief moment. Once their pricks are hard and they're hornier than ever, Dakota gets on his back and Vadim tops him, sliding his meat into Dakota's tight asshole and pulling in and out nice and slow.
Once Dakota's entrance is used to Vadim's size, he pumps him harder and faster, riding him raw as Dakota moans. They try Dakota on top next, letting him sit on Vadim's prick and ride it, stroking his own dick as he takes that cock up the ass. Doggy style is next as Dakota arches his back as he bottoms, and then one more change in positions with Dakota's legs spread wide open and Vadim's balls slapping his ass and they both shoot a huge load!