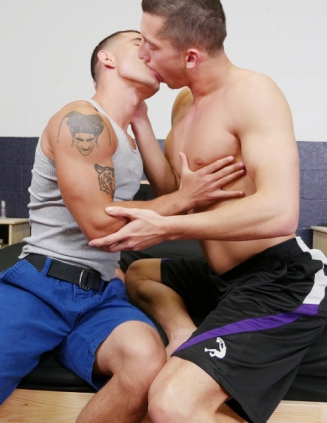 Vadim Black finally gets to top…after months of begging, we've slipped in a few more scenes where he gets to get his dick wet, and in today's scene the handsome Drake Tyler is going to be on the receiving end of Vadim's hard dick! They kiss for a while, making out before Drake shows Vadim his expert skills in oral, sucking Vadim's uncut cock and making his dick throbbing hard.
Drake gets some head next, letting Vadim work his prick and grab his balls as he lets out moans while Vadim sucks. Drake's in for an even better treat as Vadim gets on his knees behind him and gives him a rimjob, running his tongue all around that ass as Drake enjoys the ass play. But Vadim has been waiting to top, and with almost no warning to Drake, he stands up and slides his bareback meat right inside of Drake's freshly licked hole, using his spit for lube he fucks Drake raw.
He stands over him, plowing that ass, then lets Drake take control as he sits on Vadim's cock and rides it like the sexy stud he is until Vadim wants it deeper and faster. He takes Drake in one more position until he makes Drake cum all over, then Vadim drains his own fat cock right between Drake's ass cheeks.