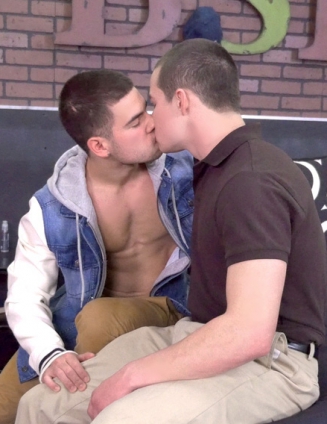 Vadim Black takes charge of Antonio Drake, and it looks like Antonio doesn't mind being told what to do by the sexy Vadim! They kiss, make out, get each other a little horny before they strip down to their boxers and Antonio starts to rub Vadim's package, kissing his chest and eventually working his way down to Vadim's eager cock. He takes that uncut dick in his mouth, pulling it down his throat and making it grow, gagging as he deepthroats Vadim's hefty cock.
But Vadim insists on showing Antonio how it's done and he throws him onto the bed and gives him some damn good oral, then finishes getting that sweet dick hard by licking Antonio's ass, giving him a rimjob good enough to make Antonio rip at the bedsheets in pleasure! When that asshole is finally wet and loosened up, Vadim slides his bareback cock inside of Antonio and fills him up with his dick, making Antonio moan in pain as that ass stretches to fit Vadim's hard prick.
Vadim tops Antonio in a different position, spreading his legs apart and pounding him as Antonio bites the pillow. But once Vadim slows down a little, Antonio is able to enjoy his first time bottoming until both he and Vadim cum all over!