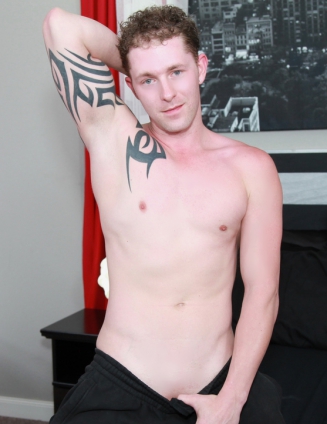 We're welcoming newbie Adam Stripz to Broke Straight Boys! But this is not his first time in the adult industry, this single stud is a stripper and a good one, but he comes at a pretty high price so he's usually more of a tease than anything. And tease is just what he's about to do!
This young hottie takes his time stripping down, giving us a little dance and putting on a show as he takes his clothes off nice and slow! After all that anticipation it's safe to say he's certainly not a disappointment! This dude is well-slung, uncut, and has a hot body to top it all off! He's definitely not camera-shy as he shoots us some naughty looks while he strokes his huge dick, getting comfortable on the chair while working his cock.
He starts to get a little more into it…closing his eyes and tilting his head back in pleasure as he jerks that prick and makes his balls bounce up and down! He moves to the bed and strikes a hot pose as he masturbates, getting completely lost in the moment until he strokes one out and squeezes every last drop of cum from that long cock! We'll see how this hot tease does with another dude...but for now, he's spent!