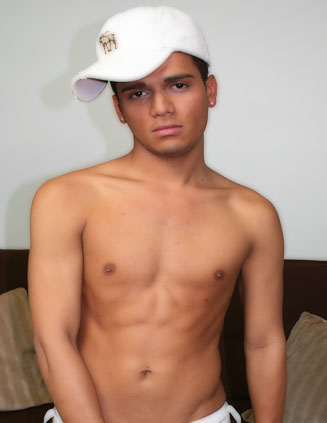 Ajay called me up a couple of days ago in a panic because he lost his job as a server, and he has so many bills that are due in a couple of weeks that he can't afford to be out of a job for long. He is 20 years old, and is going to medical school right now to be a nurse. I explained to him that he was going to do a solo scene that would pay him $200 for his time, but if he did well then I would bring him back to do some more work. Ajay had heard about us from a friend and he needed a quick way to make the money, so he gave me a call. He never thought that he would ever have set foot in front of a camera, especially with a guy filming him touching himself.

I told him that he could start to get undressed, and that I didn't care if he left the hat on or not in the shoot. Stripping off his shirt he had a very dark tanned chest with no tan lines I could see, and he said that he spent a lot of time outdoors in the sun. Taking off his shorts he was wearing a pair of whitie-tighties underneath. They actually looked good on him with a tanned body. Ajay had a very nice set of abs and he explained that he like to go to the gym to work on getting his abs more defined. Sitting down on the couch naked he started to stroke his cock and getting hard for the camera. He was pretty quiet to start, but his mouth was wide open to show that he was enjoying himself.

Sitting in that position it looked like Ajay had more of the average size penis, but his body helped to boost him up the hotness scale. He jerked off for a few minutes before laying down on the couch, making himself more comfortable. I could tell that he was getting more into the moment, because he started to make a lot more noise and faces. He told me that he was about to cum and he shot his load right on his tan stomach for us to see, and he even over shot getting some on the floor. The thing that I loved about Ajay was the fact that he was very easy to work with. He stayed hard for the whole time that he was jerking off, he wasn't completely silent on the couch, and he was able to give me a great cum shot. Well, I will have to see if this runner will come back to make some more money to cover that rent check he will have to write in a couple of weeks.