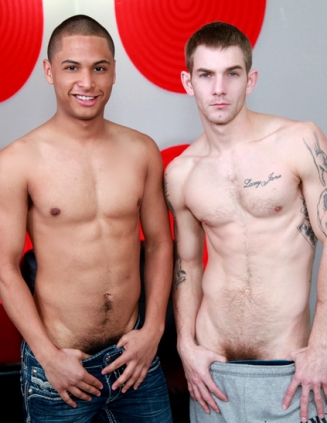 Jaden is pretty nervous about the fact that he's only minutes away from getting his ass pounded for the first time by the very well-endowed Dakota, but Dakota makes sure to ease him into it with some kissing and cock-sucking. He gets on his knes on the bed and deepthroats Jaden's big dick, working it up to full size as he massages it with his mouth before Jaden does the same, sucking on Dakota's balls and cock like he's never tasted anything better!
As hard as he tries, he just can't get Dakota's curved cock far enough in his mouth, so he offers up his virgin ass instead, begging Dakota to go slow as he enters him for the first time. Dakota gives him a little time to adjust, but it's not long before he's pounding him raw and hard despite Jaden's cries of pain as his ass gets stretched around Dakota's massive meat.
Dakota gets him on his knees and slaps Jaden's ass as he fucks him hard, making sure his new bottom gets his fill of ass-pounding before they flip and Jaden gets a chance to top Dakota. Jaden's not too gentle with Dakota either, and Dakota makes that obvious as he gasps in pain as Jaden's thick cock gets deep inside his tight ass until eventually that pain turns to pleasure and they both finish with some impressive cumshots!