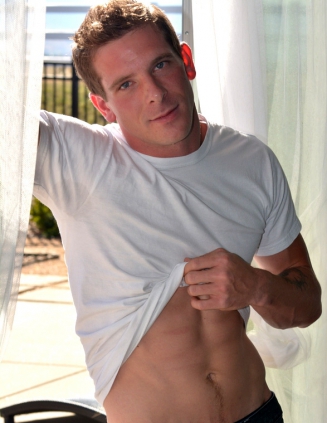 Help us welcome Cooper Douglas to Broke Straight Boys! This young newbie is as straight as they get, but he needs cash and desperate times call for desperate measures, so he's found himself here and he's ready to get a taste of what it's like to star in porn!
Cooper has been entertaining a naughty fantasy featuring him in a pool, so of course, we do what we can to make that happen with this solo scene! He puts himself all out there, starting the scene naked as he relaxes in the water, moving over the stairs where he leans back and jerks his cock gently. He pulls his dick in and out of his hand, closing his eyes as he focuses on the feeling of his cock getting harder and harder.
After a few minutes, he hoists himself out of the pool, standing by the edge of the water as he strokes his meat, small beads of water trickle down his body as he works his prick, yanking it faster as he gets more excited. He climbs back in the pool, hardly missing a beat as he continues to play with himself as he gets comfortable in the water, but when he gets close to cumming he climbs out of the water and blows his load onto a towel!