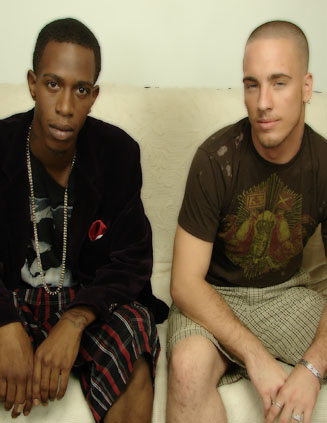 Justin came back for another shoot after I called him up to do an oral scene. When he arrived I
explained that he would be doing an oral scene with a guy and make $800, and he just said that we
would see what he would be comfortable with. That is when Tony stepped into the room and took a
seat on the couch next to Justin. Tony has been on Broke Straight Boys before and is bisexual, so he
comes in very handy when setting up some duo scenes. Tony didn't have a girlfriend, and was broke
as well. I explained that Justin had never been sucked off by a guy before and that he was a little
nervous. Both guys started to get undressed and stripped themselves of their clothes. When they got
down to their underwear Tony started to rub his hand over Justin's cock to get it turned on. Tony
started to pull his underwear right down, and just wanted to get started. They took a seat and Tony
wasted no time in getting Justin's cock in his mouth. He tried to get comfortable with each position
and finally decided that the floor in front of Justin was the best place.

Tony was very good at taking most of the cock in his mouth down to the base. It took a while and a
lot of sucking, but Justin was getting turned on by all the oral. With his cock getting harder, I knew
that things were going to go well. I asked Justin if he wanted to touch Tony's cock, just to see what it
feels like. He reached out took it in his hand and started to rub it. As he touched it, Tony started to
give him head. I could tell that Justin was thinking about it, and I put a little more money on the
table. That is when he stuck out his tongue and started to lick the shaft of Tony's cock. He then went
to putting the dick in his mouth. I had the guys open up the futon into a bed so that they could get a
little more comfortable. They got into a 69 position and both gave head to one another. This was a
great way for Justin to learn how to suck a dick right.

Tony was getting so turned on he started to fuck Justin's mouth and thrust his cock down his throat. I
watched to see the reaction that Justin gave with being made to do that, but he just kept going. The
two of them were very good at changing positions and doing new things. Justin laid on his back, and
Justin took that dick in his mouth and sucked it for a while before they went back to another 69
position. Tony gave me a warning that he was getting close to cumming and Justin stood back and
watched him blow his load. He shot right up past his nipples with a thick size load. Justin reached for
the bottle of lube and added a bunch of it to his cock to be able to have more of slide motion with his
hand.

I signaled for Tony to slide in there when I saw that Justin really wasn't getting anywhere. Tony
stroked the cock, sucked it a little bit and played with his balls a little bit. I wanted to see Justin bust
his nut all over Tony's ass, because I knew that Tony wouldn't have a problem with it. Actually, Tony
was getting excited a second time that he said that he could possibly shoot a second load. Moving to
the floor, Tony got on his hands and knees in front of the bed, and Justin sat over him. Justin shot a
bigger load than the one he had done in his solo shoot. Justin was nervous and did very well for his
first time experience with a guy. I wanted to see the two of them go further in another shoot, so I
asked Justin if he would come back the next day to do a fucking scene. He request it be with Tony in
order for him to do it. I look forward to seeing if they will connect again and make the scene a little
more hot and heavy.