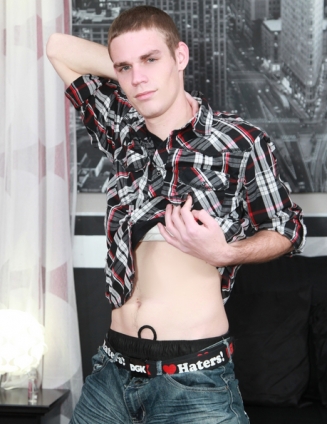 You'll not meet a shyer, and cuter, dude than Kael Diggs. The Oklahoma newbie is visibly nervous, keeps rubbing his hands, and showing off a sly smile. He's broke, of
course.
"I've got like a dollar," he says to the cameraman.
He has experimented with guys before.
"A little bit of this and that," Kael says.
It was with a friend, who wasn't certain if he liked guys or dolls.
"It was kid of fun. Different," Kael remembers.
His friend blew him and tried to top him, but the fucking didn't work. He's got a girlfriend, who is a little of a freak. However, they are well matched because Kael confesses to
his own wild side. LOL!
The lad needs to eat more. He's a skinny thing, which runs in his family. We get a peek of his booty, which is the only plump thing on his body.
Kael tugs his meat through his shorts. He eventually throws them aside, standing buck naked. Kael cups his balls as he jerks the meat. He gets on the bed and
keeps up the stroking. Kael is no nonsense when it comes to his self pleasure. One speed. No frills. His dick gets thick from all this stimulation.
The initial nerves seem to have gone. The newbie moves to the chair, draping a leg over the edge. His hand stays on the meat's tip, and the stroking speed picks up.
It's easy to tell the lad is close to popping because his face gets redder. And he bites his lips more. Kael uses both hands as takes care of his needs. With no warning a load
shoots out, landing first in the middle of his stomach. The rest of the goo coats his hairy bush.
The newbie is willing to do more stuff with a guy. What do you want to see him do?