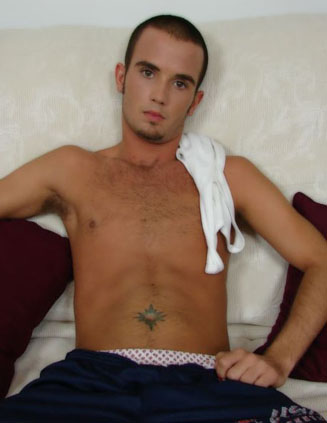 RJ came down to south Florida to visit some friends and while he was down here, he was looking to make some money. He was online surfing through a classified site, and he found one of our posting and applied with us. We had him come in for a testing jerk off scene later that day. When RJ arrived to the shoot he filled out all the paperwork, and I got the sense that he was a little nervous. He would play with his hands and move his feet. Once I got him in front of the camera he shared that he was 18, and from Mississippi. I explained to RJ how we work, and that the more that he does on camera the more money I can pay him. I told him that today he was doing a solo shoot, but that I would like him to come back to do a duo shoot with a guy to make some more money. To my surprise he raised his eyebrow and said that he would do it. I asked him if he had ever done that before and he said no, but would do it.

Standing up he started to get undressed in front of the camera and when he got down to his boxers I noticed that he had a tattoo around his belly button. I asked him if it hurt and that is when he showed me the one on his back. I had him show me twice and really I just wanted to take a look at his ass one more time. RJ took a seat on the couch and he started to play with himself. He told me that he doesn't have a job back home and that his friends flow him down. He started to play with himself and I told him to jerk off, play with his balls, and if he wanted to play with his ass. RJ was a lot of fun to watch jerk off compared to some guys, because he moved around and changed positions. His body was very nice, tan, mostly smooth except for his upper chest, and he was in good shape.

As RJ started to have his orgasm his breathing changed and got louder. That is when the hot cum, started to shoot out on his stomach. The cum started to fill his belly button with his man juice, which begged to be licked by a tongue. He let his dick rest as soon as he was done jerking off and he watched the TV just for a few more seconds. I was able to get a close up of his face, and I noticed that RJ had very beautiful eyes. RJ didn't have a problem with doing a shoot with a guy, and even admitted that he was gay for pay. Right now he really needs the money. I am going to look forward to having him come back in here to do some shoots with a guy.