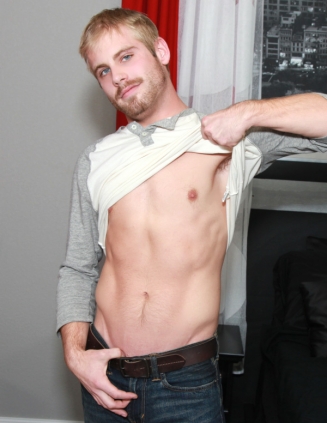 Meet Tate Thompson, a sexy dude with the great laugh. The blonde dude has been putting in natural gas lines from Binghamton, New York to Waldorf, Maryland. The job paid
well, but he wanted something different.
So he walked way from that and now works in his aunt's bar. "I grew up in kitchens," Tate says. "My father was a chef. My grandmother was a chef. My great-grandmother was a chef." He likes cooking, but the 22-year-old doesn't want to make it a career.

He doesn't have good things to say about his previous girlfriend. She didn't give good head, but the "ass was great." The main reason he stayed with her. The experience made
him slightly bitter, so now he just wants to get as much booty as possible. One of the pleasures of working for BSB is that you can bust a nut and no one will bitch you out! LOL!
He and the cameraman get into a debate if he has model looks. After that he takes off his shirt, and Tate has a dusting of hair on his chest. He doesn't think he has model
looks, something that surprises the cameraman. Although he hasn't worked out for the past three months, Trent's body is still kicking. Flat stomach and slender thighs. His
dick, when it's not hard, is tasty looking. The type of the thing thing that could make any hole happy.
After lubing up, Trent starts jerking it. The newbie is a little nervous, but soon enough that tool gets plumped. He bites his lip as he strokes that meat.
Tate relaxes, getting on his back. He even moans.

"You want to cum soon," the cameraman asks.

Tate answers no, but he does pick up the stroking speed. With no warning, he nuts all over the bottom half of his stomach. Clear man juice soaking his belly button.
"Nothing like a pipeline, but this is so much better," Tate laughs! "We had a blowout!"
Tate fist bumps with the cameraman.

What do you want to see next from Tate?