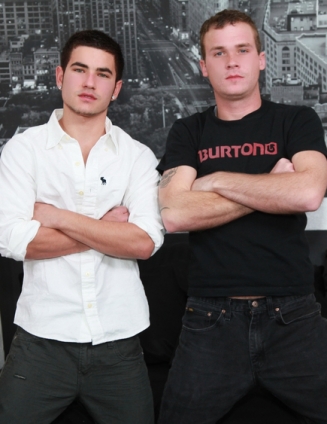 Vadim is practically shaking at the idea of taking a dick up the ass and is adamant that he's not going to enjoy it…but when the clothes come off and Romeo's mouth wraps around Vadim's cock, he changes his mind! Oh yes, he definitely enjoys Romeo sucking on his prick and gagging on its impressive length as he gets it deep down his throat.
As much as Vadim seemed put off by the idea of another man's dick…he jumps right in and takes Romeo's juicy meat in his mouth and works it with his tongue. But there's no use denying the inevitable…Vadim is going to have to take a dick soon and it's gonna hurt his little virgin ass! Romeo hardly gets his tip in before he has Vadim crying out in pain at the feeling of his tight, untouched asshole getting fucked and filled with cock!
Romeo pounds him bareback as he cries out, and then the two switch places and it's Vadim's turn to see how it feels to shove his meat in a dude's ass. Vadim definitely makes a better top…or maybe his ass just needs a few more good poundings! Romeo takes Vadim's thick and throbbing cock like a pro, letting him ram him hard before they both shoot their hot load.