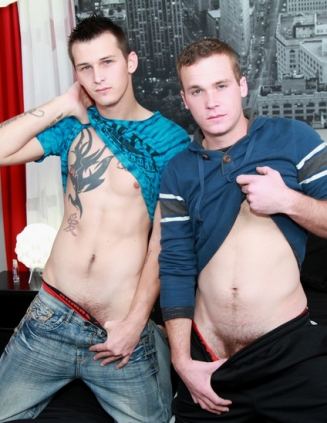 The night before this update Jaxon Ryder and Romeo James took their fine selves to a bar. The cameraman wonders if there are stories to share from the liquored up escapades. "Yeah, but I don't think we should talk about them," Romeo answers. Jaxon also stays mum, which means the tales must be naughty and delightful! LOL! Seeing how both lads are being tight-lipped with any dish, they decide to get right to business. Clothes are removed, and the obligatory booty compare is done. They even reach over and grab a handful of juicy ass! From there they go to kissing, which is mandatory after jiggling a dude's butt cheeks.
Romeo takes a seat and Jaxon gets on his knees so he can put his lips on man meat. "Oh, yeah. Suck that cock," Romeo whispers. Jaxon is never one not to do his oral duties. He goes up and down, covering the shaft with spit. Romeo curses encouragement. Jaxon stands up and Romeo hits his knees. He takes what Jaxon has to offer, getting that uncut meat plump. Shakespeare's boy (grin) chokes on that sausage. "You like that cock," Jaxon wonders. The only answer he gets is more sucking. LOL!
It's fucking time! "Lots of lube," Romeo says. He puts some in his hairy hole and Jaxon slathers the stuff on his pole. Romeo gets on the bed, on all fours. Jaxon takes his time filling up Romeo's boy cunt. After a minute or two, Jaxon starts going in and out. "How does that feel," Romeo wonders. "Feels OK," Romeo replies. The pace picks up. Jaxon's nuts start to smack Romeo's cheeks. "Yeah. Spread your fucking ass," Jaxon orders. Romeo grabs the sheets, whimpering into the bed. He gets on his side and Jaxon reenters. Romeo grits his teeth, but his dick tells the real story. His special spot is getting some royal treatment. Jaxon's fucking pace picks up. He's balls to the walls, making certain Romeo gets ever inch. Even pulls the cheeks apart to get more booty.
Romeo gets on his back for the final lap. Both lads are cursing and ready to lose some juice. "Fuck me," Romeo groans. He starts to jerk his tool and that wet load first hits his chest. The rest of the cum lands on his stomach. Jaxon keeps fucking that hole until he's ready to nut. He pulls out and his creamy jizz lands near Romeo's belly button. "Nice work," Romeo says to Mr. Jaxon. There's a hint Romeo got the load that Jaxon was supposed to give to some lass. Glad he didn't waste it on her! LOL!