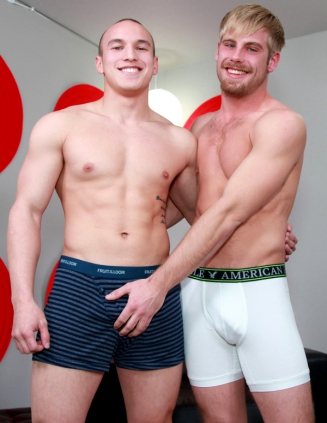 It's JJ's first time fucking a dude so naturally he's a little nervous, but Tate gives him some words of encouragement and they both get undressed. These two are a sight for sore eyes...well-built, big cocks, tattoos, what more could you ask for? How about getting to watch these two studs fuck and suck their way to ecstasy...well luckily you get that too!
Jj gives Tate head, still a little hesitant at having a dick in his mouth, but he gets the job done, drooling all over Tate's big cock and getting a little messy as he makes Tate rock hard. Then it's Tate's turn to go down on Jj, and he sucks on Jj's cock like he's never tasted anything better before he pulls his mouth off Jj's dick and puts his ass around it instead.
He rides JJ and lets JJ fuck him as he straddles him, and then Tate bottoms for him in all different ways, whatever will let JJ get that prick in good and deep. It seems his hesitations about fucking a guy have gone out the window as he pumps Tate full of his huge bareback cock until they both explode with pleasure.