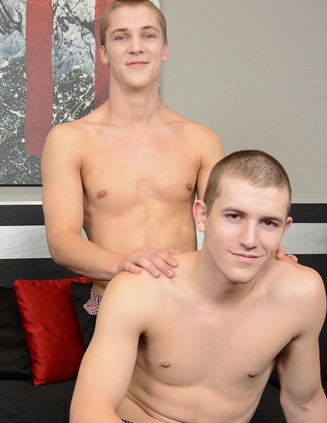 If Ayden and Mick are smiling, trouble is bound to follow. The two studs are the stars for today's sexy vignette. When asked by the cameraman what he's been doing lately, Mick confesses his time has been his own.

"One time I thought about doing something and it didn't happen," Mick says.

As for Ayden, his days are spent watching his gal pal work at two jobs. Not a bad life if you think about it. And be honest: most of us would take three gigs if Ayden was waiting at home! :-)

Today's plot will involve Ayden being the fucker and Mick the fuckee. Ayden, of course, is a happy camper. Mick doesn't look pleased at all. However, he's got to understand. We love him as a top AND bottom. That ass is so perfect.

The two strip and get back on the bed. Ayden puts Mick's thick tool in his mouth. Mick moans and groans, like most straight guys do, from a blow-job administered well. LOL! Ayden licks the shaft and treats the sausage like it has a sweet treat inside. Which it does. :-)

Mick returns the favor. He might be a newbie, but Mick's oral skills are putting him at the top of the BSB class. He doesn't deep throat, yet, but knows enough to keep his tongue on the bulbous head. Mick also gets juice is essential for a good oral treat. Ayden lets his partner do all the work, making sure to guide him with his hand.

It's time for fucking. Mick assumes the position, doggie, and Ayden puts on a condom. It takes a few jabs before Ayden is in. Once he's there, his strokes are balls deep. Mick moans as he grabs the edge of the bed.

"Your ass feels so good," Ayden whispers.

Mick bites his lower lip and takes his stuffing. Even if he had a complaint, it's doubtful Ayden would stop.

"Oh shit," Mick whimpers.

He's getting split in half, the way that sweet booty was made to be treated. Mick gets on his back, and Ayden returns to that warm hole. The strokes are long and strong. Mick even puts a hand on Ayden's thigh to keep him from going so deep.

"Oh, shit," Mick groans.

Ayden grabs Mick's throat as the fucking gets faster. Mick's toes began to curl, and his curses get a little louder.

Ayden pulls put and strokes his meat. His jizz coats Mick's, pubes, hand, and lower stomach.

And we fade to black. So who else should give Mick an old fashioned rutting?