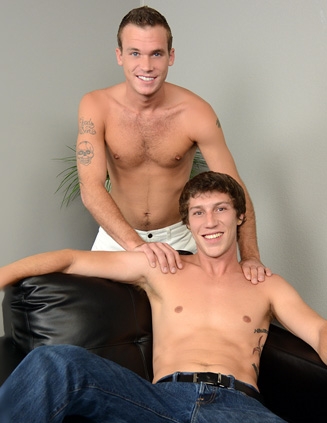 Romeo James is true to his name in this video. At the start he's giving Paul Canon romantic kisses. Hard to blame him. Who wouldn't want to kiss the ever delectable Paul?

Paul has his hands around Romeo's waist as the two make out. They keep kissing as those pesky clothes are removed. Romeo gets down to his underwear, as Paul keeps his pants on. Paul pushes Romeo in the chair and keeps kissing. He even laps at Romeo's nipples and pits. Romeo gets pulled up and Paul takes the chair.

"Come here," Paul orders as he takes Romeo's stiff rod in his mouth.

Paul sucks loudly, kissing the entire shaft. He's doing such good work that Romeo wants his scene partner naked. So he pulls off Paul's pants. Paul resumes, leaving spit on that sausage; his own baby maker standing at attention from all the excitement. He's deep throating and jerking that plug, causing Romeo to cuss.

Romeo, however, is an attentive scene partner. He leans down and gives Paul another kiss. He then hits his knees and returns Paul's oral favors. Romeo licks and sucks, making Paul moan like a cat in heat.

"So good," Paul moans.

Don't be jealous! LOL!

Romeo comes up again and places sweet kisses on Paul's mouth, which are returned. Paul turns around, on his hands and knees on the chair. Romeo laps away at that hole. He gets it nice and slick, working his face in as far as possible. The man cave is soon shiny with spit.

"You like that," Romeo asks.

"Feels so good," Paul answers.

It's pounding time. Paul makes sure to put lube in his hole before Romeo enters. Raw.

"Go slow," Paul pleads.

Romeo does, entering in a deliberate motion. Paul moans immediately when Romeo is in. He slow dicks Paul at first, letting his bottom get used to the meat. But each stroke is balls deep.

"Not so deep," Paul whines.

Romeo tries to follow the request, but the booty is too good. He has to have it. The way he wants. Just like his namesake!

They switch positions, kissing first. Paul straddles Romeo and the fucking continues. Paul bites his lip, leans down and offers a kiss for the hard fuck.

"Oh, shit," Paul groans.

Paul gets on his back, those tender thighs in the air. Romeo leans in for more smooching as he pounds away. All of this is getting to Paul. Look as he puts his hand on Romeo's thigh to stop him from going fully in.

A prostate can only handle so much stimulation. Paul announces he's about to cum and does he! That first spurt hits his fine chest, right above that tasty nipple. Romeo pulls out and strokes his own meat. His cum coats Paul's hole and butt cheeks.

There's a romantic kiss and the scene comes to an end.

Don't miss the outtakes! You'll hate yourself if you do!