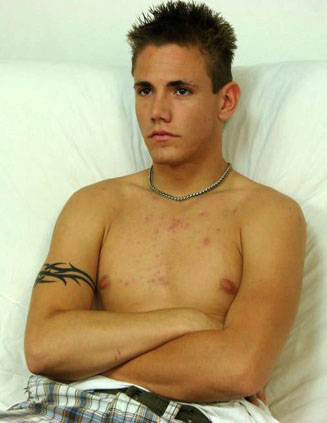 Nikolas called me up from the ad that he saw in one of the local newspapers that we have running looking for guys. He told me that he really needed to make some money and was interested in everything that the ad stated. When he arrived on my doorstep he had his shirt off and a skateboard in hand. He came in kind of sweaty and took a seat on my couch. I offered him a glass of water as he filled out the paperwork before we could begin. Nikolas is 18, and seemed very shy right from the start time I saw him in person. He told me that he was straight and that he had never been on camera before for a real shoot. He and his girlfriend only did things behind their own closed doors on camera a couple of times. I told him that we were going to be doing a test shoot and that all he was going to do was jerk off for us. Then, if he did well we would have him come back for some more shoots in the future with other models.

Nikolas seemed ok with everything so far and that is when I had him stand up for me and start to take off the rest of his clothes. Up until this point Nikolas had a smooth chest, tan skin tone, and overall a good looking body. He took the shirt off and placed it to the side, and then he went for the shorts. He was wearing a pair of boxers and he stripped those off to be fully naked for us. Nikolas's shyness came out as he covered up his cock for the camera. I had him turn around to show his ass to the camera to see if we could get a shot of his asshole. I even made him bind over a little bit, but he was uncomfortable so I moved on. Taking a seat on the couch, I told him where the lube was and he went for a bottle. As soon as he applied some to his cock he started to get hard right away.

Monster cock, are the best two words to use when talking about Nikolas's giant dick. His cock naturally curved to side, and was very thick. As he jerked his dick off he would concentrate more on the tip of his cock for the sensation. Mixing it up he would jerk off at different speeds and the nice part in watching him stroke the massive thing was that he stayed hard. In looking over Nikolas's body it was smooth and he had more of a football player's build to him. He was very silent as he stroked his cock and put on his show for the camera. Once we got to the end he told me he was about to cum in a little whisper and then a hot shot of cum hit his leg. Most of it ran down to the base of his cock and was thick in size and a rich white color.

Nikolas said that his dick size ranges depending on how hard he gets but around 8.5 inches seems to be his size. He said that he had a good time in the shoots and would like to come back for some more work. I am curious to see if this guy calls me for more work.