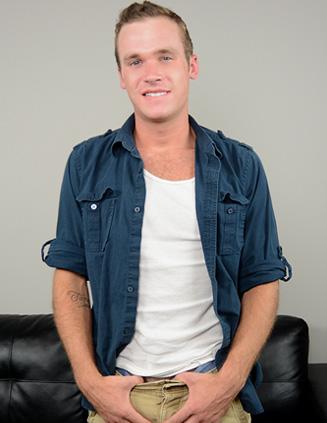 O Romeo, Romeo, wherefore art thou Romeo? He's sitting on the BSB couch!

Romeo can blame his name on his mom. She was a "big theater buff" and named her cute son
after the star crossed lover.

Our Romeo seems to have the same rash streak that haunted Shakespeare's character.

"I'm on my third DWI, and I lost my license. So I have no transportation to work. So I'm jobless
and broke."

Three DWIs!! Oh, Romeo. You are way too cute for such madness. Designated driver, dude!! OK.
No more preaching. :-) He was working in construction, laying concrete, but now needs money to
replace his lost income.

The 22-year-old first jerked off at his grandparent's house. He was 10, gaping at a magazine with a
lass on the cover.

"Started stroking at my grandparents house," Romeo says with a laugh.

By this time he's down to his t-shirt and underwear. Romeo doesn't have to jerk off as much as he
did back in the day. He gets a lot of (female) tail apparently. He and his friend tag-teamed a
cougar once. Unfortunately they didn't mess with each other.

All these tales of debauchery have gotten the confident guy worked up. His dick is a slightly curved
toy that would hit the spot. Lovers of fur will like the fleece on his chest and legs.

Romeo jerks his meat with slow precision. He's not a moaner and soon enough forgets he's being
filmed :-) He looks real sexy tugging his balls and stroking those hairy thighs.

He loses the tee-shirt and sits up. Romeo bites his lower lip and looks into the camera. Cock tease.
:-) He admits to playing with his butt from time to time. He pulls his legs up and gives a peek of
his hole. Romeo fingers it and gets even more excited. Someone might be ready to bottom. :-)

Romeo puts those fine legs back on the floor and shoots a messy load. It slathers his stomach and
pubes. When asked, he puts some of that nectar on his tongue.

"Taste pretty good," Romeo observes.

So? A keeper?