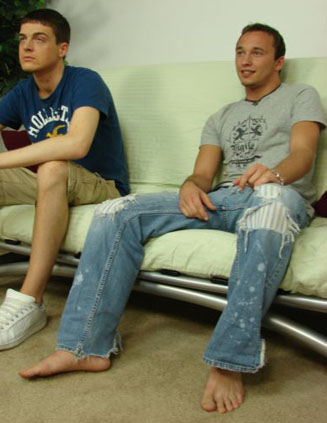 Cole is 19, straight, and has had some girlfriends in the past, although he currently is a free man. Damien on the other hand is 18, a freshman in college, and really was nervous to do the shoot. The two of them went to the same high school, and now were going to go to the same college as well. I told them that the shoot was going to be a screen test to see how well they would do in front of the camera. The two of them use to jerk off to porn with a group of guys after school or football games. They surprised me with how common they made it seem that they did this. I told them I would put on a porn for them to watch and they could go ahead and start to get undressed.

Both guys stood up in front of me and started to remove their clothing. Cole was the first one to really get started, by taking off his shirt, and then going for the pants. Damien was wearing some boxers, and Cole had on a pair of briefs. I gave them my basic spill about watching the porn until they got to a comfortable point to pull their briefs. The two of them were really quiet, as they sat their touching. They didn't really seem to be all that excited about it, so I just told them to go for the briefs after a few minutes. The guys were quick to grab their cocks and start to stroke a little harder.

I told Cole that I thought it would be hot to see him reach over and help out his buddy for some more money. They moved a part quickly from each other, forcing me to move back to keep them in the same frame. Finally, when we agreed on an amount Cole reached over and took a hold of Damien's cock and started to touch it slowly. I was glad to see that Damien was getting turned on by this. His cock was growing thicker with very stroke. Damien made no emotions that he was enjoying this at all, it was kind of weird. I told him to reach over and take Cole's cock in his hand and he did so not arguing. Touching it lightly and wiggling his cock a little bit like a toy.

Trying to get the guys to do a blow job, they stood up and grabbed their clothes wanting to leave. I told them that I would pay them both more money and we started to talk. I told them that I was just going to watch that part myself and that got them to relax a little bit more. Damien agreed to get started, and he moved to his knees on the floor in front of Cole. Taking the limp cock in his mouth he started to suck on it softly. Putting a seal around the cock, he started to go up and down. Cole made a comment that it was starting to feel good, and that it was hot. Making some jokes about the head he was receiving, he was having fun with Damien.

I then had Cole return the favor and so he repositioned himself to the side of Damien and placed the cock in his mouth. Moving his head up and down on the soft cock, Cole was giving his first blow job. As Cole was giving head, Damien placed his hand on the back of Cole's head for a second. Cole would suck a little and then jerk off Damien a little. As soon as Cole stopped though Damien's cock went down, again in size so I had to wait. I decided that the two would just jerk off next to each other to make the shoot keep running smoothly. I was glad to see that Cole was able to get hard rather quickly. Cole was the first one to shoot his load on his lower stomach and he started to moan as his load shot out on his skin. He laid back and let out a sigh of relief. Damien needed Cole to suck on him some more in order to get close to cumming. He was a little freaked out by the shoot and couldn't cum for us. He really wants to come back to be with girls on camera and so does Cole.