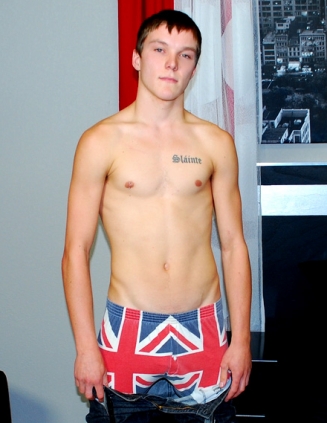 The best models are the honest ones. Meet cutie Colby. When asked to explain why he's broke, he offers the only answer that matters.
"I'm broke because I don't have money," Colby says to the cameraman.
Hard not to love a straight forward response. :-)
He's a student now but, when he was working, Colby was a waiter. A very good one to hear him tell it. :-) He's skateboarder and snowboarder. Likes the mountains.
Colby has no gal pal right now, but doesn't seem too worried.
"I still get what I want," he says with a grin that would make the normal person wet. :-)
As he gets rid of clothes, Colby admits he's only been nude in front of friends. He retells his first time jerking off. Colby and two friends were stroking it. He assures there was no touching. :-)
He did measure his dick once, but can't remember what the measurements were. Colby jacks off twice a day, morning or night. He feels himself up as he shares his jacking routine. All of this gets him hard.
When he starts his show, the stud strokes his chest. He breathes slowly and wags that big old dick to the camera.
Colby keeps his attention on his bloated head. There's no rush to his technique.
When he gets the bed, Colby is on his stomach. That fine ass points to the ceiling. He looks at the camera, as if he knows what we want to do to him.:-) When he spreads his butt cheeks, there's a peek of his virgin hole. Listen to the slight tremor in his breathing when he sticks a finger in that boy butt. Do you think Colby might like something bigger? :-)
On his knees, that hole winks at us. At least it looks like it does:-) Colby is ready to bust, so he sits down and strokes away. His toes curl and, with no warning, his pubes and inner thigh get covered in cum. Like a lot of it!
So what do you think? Should he come back?