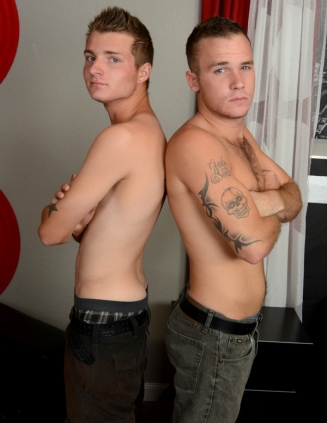 This will be a day of firsts for the ever-smiling Tristan Stiles. He's going to fuck a guy, namely
Romeo James. And the Shakespearean character will make Tristan bite the pillow by plowing his ass.
When the cameraman asks what he thinks it will feel like getting filled with dick, Tristan doesn't have
much hope.

"Hurt. Unpleasant. Excruciating pain," Tristan offers.

He's certain he won't have a lick of fun, but Romeo offers a different perspective.

"I think he'll enjoy it," Romeo says.

Romeo remembers the first time his BSB cherry was popped, and there was pain. But the stud has
come back…..LOL

Clothes are tossed aside and both are semi-hard. Always a a positive sign. Romeo sucks first and
after a few laps comes up to place a kiss on Tristan's mouth. After the brief smooch, Romeo returns
to blowing. He grabs those cum heavy nuts as he sucks away. Tristan's eyes are closed, and his
mouth is agape. Someone is in blow job heaven.

Soon it's time for Tristan to show off his oral skills. He gobbles up Romeo's rod.

"Yeah, suck that dick," Romeo encourages.

Tristan needs some more kisses before he continues, which Romeo gladly offers. Have there been
sexier kissers than these two? A video of them just making out would probably cause the internets to
explode! LOL!

Tristan gets on his back, those thighs in the air. When Romeo tries to enter the man hole, bare,
Tristan flinches. Too much meat. But Romeo must have his prize, so he holds Tristan down. Poor
Tristan grunts and groans as his hole is stretched. Romeo fucks balls deep, but goes slow. Even gives
his bottom boy a kiss. The pace slowly quickens as Romeo nibbles on Tristan's foot and ankle.

"Tight hole," Romeo says.

He rubs Tristan's chest and gives him one more kiss. Romeo pulls out and sucks Tristan's tool. You
can't fuck with a soft dick :-)

Tristan puts lube on his schlong. Romeo slathers some on his hole, and gets in the doggie position.
Tristan enters and starts pounding from the first stroke. Balls deep in that hairy ass. Before he gets
on his back, Romeo and Tristan make out. When he's back in, Tristan is slamming that hole. Each
stroke makes Romeo curse and groan. He even puts a hand on Tristan's thigh to keep him from
reaching so deep.

But a man's joy button can only be toyed with so many times. Romeo nuts jizz all over his chest and
stomach. Tristan continues to pump away until he's ready to bust. His load slathers his hand and
dribbles on Romeo's pole.

Such vigorous fucking deserves more lip lock, which is what the boys do!