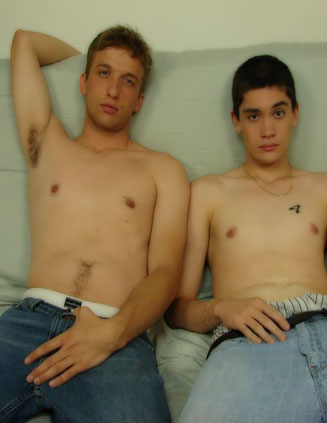 I had two guys stop into the studio to do some work and one of them was Daxter, who was 22, straight, and very broke. In pairing him up, I choose Rabib, who was 19, definitely straight and just moved to Florida from New York to do some video work. I told them that this was just a jerking off session and that I was going to pay them to jerk off for me. If they did a good job then I was going to have them come back again for some more work in the future. Standing up both guys got undressed for me and exposed their naked bodies to the camera for the first time. Daxter and Rabib were both very quiet to begin with and sat there looking at a video that I had put on to try and get them hard.

After just a few minutes of stroking their cocks with lube, you can clearly see as I did that Daxter has a monster of a cock. I even had him stand up for me so that way I could see his whole body. Showing has ass to the camera, he had a nice set of buns. This also allowed me to get a close up of his cock. Rabib's dick was getting hard but wasn't a rock yet. He was really nervous and I could tell from all the models that I have ever shot that it was just going to take some time for him to warm up to the camera. He said that he had sex with a girl yesterday, and maybe that is why he just wasn't getting hard. Rabib has a very young, innocent look to him, smooth, has a couple tattoos, and I think he does have a wild side that he could show.

With Rabib standing up for me, I was able to see that Rabib had just trimmed right before the shoot so his hair was very short, and he shaved his balls. I was able to see that he was around a six inch penis and he was doing ok now. It was like pulling teeth for him standing there just about two feet away from me, so when he got a chance he sat back down. I didn't let them get too comfortable before asking them both to stand facing each other. Watch them and see for yourself that they don't want to get caught looking at the other one's cock. In watching Daxter jerk off he would concentrate on the tip of his cock, then would moved down towards the base, and then the whole thing.

Taking a seat the two jerked off more to the video and I asked them to work on getting closer to cumming for me. After saying that, was when Rabib started to go down in size, but I didn't say anything because I didn't want to make him even more nervous. However, after I moved the camera onto Daxter he started to breathe faster and that is when I noticed that he was starting to have his orgasm. His load shot out on his lower stomach and hand covering them with white, hot, cum. Panning back over to Rabib he wasn't even close. I stopped the camera for a moment and gave him a short break of me filming, but then I tried again. He stopped me and said he just wasn't going to be able to nut. I told him that I would give him another chance in doing a shoot for me in a couple of weeks. I hope to be able to put Dexter in a shoot where he fucks a dude with that huge cock of his.