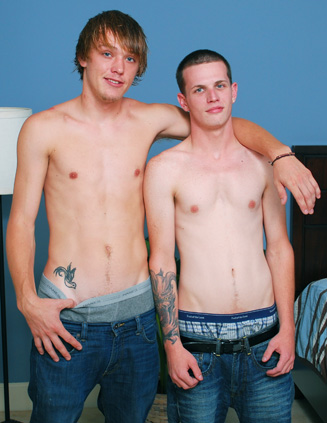 During his BSB tenure, Anthony has transformed himself into the type of pass around bottom every party needs. However, even a pro like him might be in deep trouble when paired with Duncan "donkey dick" Tyler.

"We had Duncan in town and he has a pretty big cock," the cameraman says to Anthony. "So we thought it would look really good going into your ass."

Anthony is shocked by this confession.

"Wow. I'm flattered. Thank you," Anthony replies.

He's not convinced about the size of Duncan's dick, and tells a rather wry story of meeting a woman from an online dating site. If you're going to set up some time with Anthony, best to use a very recent picture. If not, expect to be left at the door. :-)

Clothes are removed, but Anthony still has doubts about the size of Duncan's tool. Duncan leans over and starts sucking first.

"Oh, fuck yeah," Anthony moans.

Duncan slurps all over the pole, even tugs at those hairless nuts. He lets some drool drip out of his mouth and uses the substance as lube.

It's time for Anthony to show his oral skills. He immediately gags.

"That's a big cock," Anthony observes. "Holy fuck."

You were warned Anthony! LOL!

He tries to fit as much as he can in his mouth, but can barely get to the midpoint of the shaft. His eyes tear from the effort.

"I want you to fuck me right now," Anthony demands.

Be careful for what you wish for. :-)

He puts a condom on the massive meat and gets it all lubed up.

"Fuck the shit out of my ass," Anthony orders as he gets on all fours. "Right now. Right the fuck now."

Duncan takes the challenge and when he enters the man hole Anthony is in pain. Duncan doesn't care. He plans on "fucking the shit" out of that ass.

"Oh, fuck. That hurts so bad, dude," Anthony cries.

Duncan isn't paying attention. He's going balls deep, making sure Anthony feels this fuck days after it's over.

Anthony's standard "O" face has never been wider. He screams filth in the mattress.

"Oh, you fucker,' he whines.

Duncan takes these insults as a challenge and has his bottom boy "scoot back." When he reenters the abused boy hole, Anthony utters a line Duncan should put on a t-shirt.

"Oh, you son of a bitch," Anthony sobs. "You fucking big dick fuck."

Duncan chuckles and continues with the powerful thrusting.

"Your fucking cock is too big, man," Anthony whimpers.

You were warned, Anthony. You were warned. LOL!

These cries aren't registering with Duncan. He is in a tight hole and nothing else matters. They change positions, Duncan on his back as Anthony rides his top stud. Duncan deep drills as Anthony jerks himself. The busted bottom spews cum all over Duncan's abs.

Antony gets off the thick pole so Duncan can stroke for his relief. He shakes, and groans, as a massive load squirts up landing right next to his nipple.

"Daaaaaamn, Anthony says.

An apt response to this scene, no? :-) Who should Duncananally abuse next?